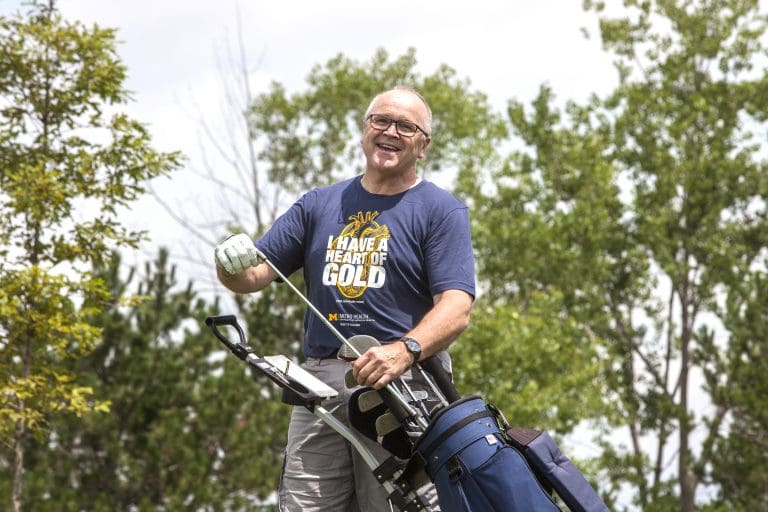 Jeff, a teacher, was working in his shop after school one day when he started to feel chest pains. He took a break, but the pain continued, so he drove himself to the emergency room at Metro Health Hospital.
There, he learned he would need surgery. After having two stents put in, Jeff got his diagnosis: coronary artery disease.
"It's a blockage in one of your veins, where a part of your heart is blocked off," Jeff explains.
Before Jeff left Metro Health, he learned about the Cardiovascular Rehab program. "When I was released, Doctor Fadi Saab said he really thought I should go to rehab. So I'm going to cardiac rehab to try to get my heart back in shape."
Of his time there, Jeff says, "I like everything about it, actually. First of all, you talk about the facility, it's brand-new. They've got really nice equipment, and a nice variety of equipment. I've always liked exercise. I like going there and working hard. I like doing that and it's easier to do in a group. I definitely like that part."
The other patients make his time at rehab fly by. "I just like being with the other patients. I like to talk and chat with people. I find out what's going on with them. What brought them there. If you see other people are in the same boat with you, then it's comforting and that's reassuring that you're not the only one suffering from that."
He enjoys his time with the Cardiac Rehab staff, too. "They're very helpful and very caring. They're knowledgeable. It makes me feel like and realize, it's really not necessarily the end of my life because I had a heart event. I just have to change some things up. This may be a wake-up call for me."
Jeff still has a few more sessions of rehab left, and then he'll be ready to take the lessons he's learned with him. He's confident in what he's learned and encouraged by the team behind him.
Of the future, Jeff says, "I want to make sure that I keep going."