By embracing the strength of diversity, the justice of equity and the welcome of inclusion, we become a better workplace and center of healing. That's why we track our progress toward DEI goals.
University of Michigan Health-West believes in building DEI strategies into our organization's structure. Everyone has a role to play in this environment, and everyone is a beneficiary. Although policies play an important role in this work, we believe it's also important for DEI values to be part of our culture.
In addition to regular training, our monthly "Third Thursday" workshops are popular interactive sessions for our colleagues to learn about how to best serve and interact with diverse patient and employee populations. Topics have included:
Personal cultures, values and beliefs
Working effectively in diverse teams
Preferred gender pronouns
Racial/ethnic distinctions and disparities
Religious beliefs and health care
Cross-cultural communication
---
LGBTQ Healthcare Equality Top Performer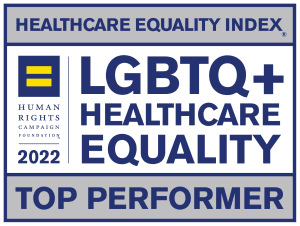 University of Michigan Health-West has earned national recognition for a commitment to equity and inclusion for lesbian, gay, bisexual, transgender and queer patients, families and employees.
With a score of 90 out of 100 possible points in the Human Rights Campaign's national benchmarking tool, the Healthcare Equality Index, UM Health-West is the highest-scoring system in Grand Rapids area and earns designation as an LGBTQ+ Healthcare Equality Top Performer.
The Top Performer recognition is a milestone on UM Health-West's journey of constant improvement in equity and inclusion – with more advances to come. It is also a commitment that UM Health-West will hold ourselves accountable.
---
Antiracism Pledge
University of Michigan Health-West is committed to improve the health and well-being of our communities – all members of our communities. Read UM Health-West's pledge to antiracism here.
---
About Diversity
At UM Health-West, we encourage all people to think of themselves as diverse beings. In other words, diversity is not reserved for specific groups.
Our identity is made up of many traits, some visible, many not. For example, beyond age, gender, race and ethnicity, consider other distinguishing factors: marital status, gender identity, income, geographic origin, profession, religious beliefs, and many others. Diversity strengthens our organization by adding multiple perspectives, creativity and innovation to our work.
---
About Equity
Equity is not the same as equality.
Equal treatment can be well-intentioned but ineffective. Consider a classroom of 30 children, each given an identical pair of scissors. If three children are left-handed, they will experience difficulty – despite being provided the same tools as their peers.
Equity, by contrast, seeks to provide everyone the same opportunity for positive outcomes. That is why it is so important in health care, where it can mean the difference between life and death. UM Health-West has always focused on treating each patient as a person – this is an essential component for health equity.
---
About Inclusion
We believe that all people should feel welcome at UM Health-West. This extends to staff, visitors and patients and has always been part of our culture.
However, it's important to recognize the unconscious biases each of us carries through life. Cultural awareness is important, too. We provide staff with training on these and other strategies to maintain an inclusive center of healing. Inclusion is a vital part of our commitment to serving the health and wellbeing of our community.
---
Sexual Orientation & Gender Identity (SOGI)
UM Health-West is committed to being a safe, inclusive organization to our entire patient population. This includes welcoming individuals of all sexual orientations and gender identities.
We've added new questions about sexual orientation and gender identity to our Medical Record forms.
We believe it is important to learn this information from our patients. For more information:
Talking to your healthcare provider about being LGBTQIA+
---
Rhae-Ann Booker, PhD, our Vice President of Diversity, Equity and Inclusion, explains how the COVID-19 pandemic revealed why these values are so important.
---
Community Partnerships
The Department of Diversity, Equity and Inclusion (DEI) at University of Michigan Health – West is proud to partner with so many community organizations and individuals as we recognize the lived experiences and voices of community members as vital in creating inclusive and equitable healthcare spaces.
---
About Our Policies
UM Health-West has policies prohibiting discrimination or exclusion on the basis of race, color, national origin, age, disability, or sex.