Transforming Healthcare Through Philanthropy
As a supporter of the University of Michigan Health-West Foundation, you provide our nonprofit health system with progressive programming and breakthrough technologies. Please consider making a year-end gift to continue improving the lives of our patients.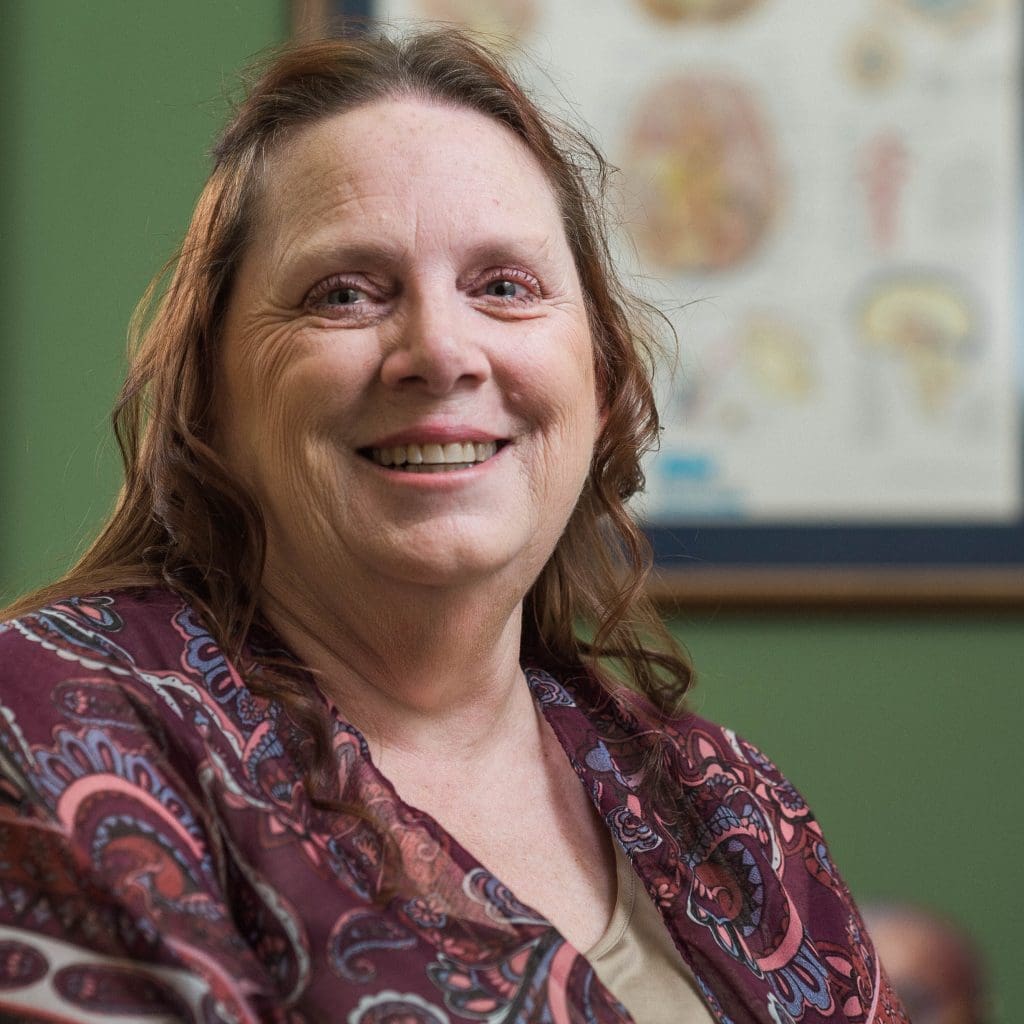 This past year, donor dollars allowed the Foundation to purchase a surgical exoscope; a robotic digital microscope utilized in microsurgeries that provides 3D imaging, precise positioning, "fluorescence" to light up target areas, and access to microscopic views of the surgery taking place on large monitors within the operation room.
As pioneers of this technology in the West Michigan healthcare landscape, it's changing the way our neurosurgeons provide care and redefining how microsurgery takes place at UM Health-West.
When Dr. Bryan Figueroa first met Cheryl, she was experiencing migraines, dizziness, spinal fluid leaking from her ear, and significant hearing loss. Upon initial consultation, the neurosurgery team knew they needed to act quickly to avoid further complications such as meningitis.
Exactly three weeks before her son's wedding, Cheryl entered the operation room. She would be the first patient to undergo surgery utilizing the exoscope.
---
"I call him my miracle doctor."
---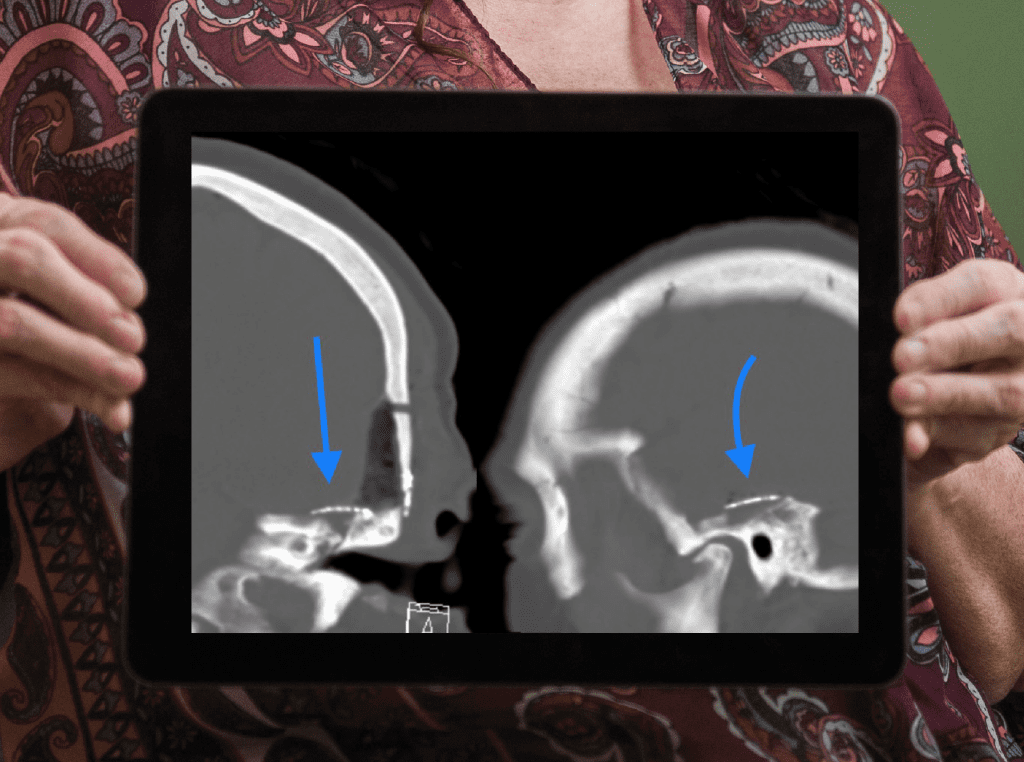 With enhanced sight to the source of the herniating brain tissue, Dr. Figueroa and his team decided to place a titanium plate in Cheryl's brain to reconstruct the base of her skull and keep it from pushing into the ear canal. It was the first treatment of its kind with this diagnosis.
Just weeks later, Cheryl was able to attend her son's wedding and enjoy the ceremony, toasts, and first dance… her hearing almost fully restored. This particular feat stunned her physicians, who said hearing restoration is often minimal and typically a lengthy process.
"I have never been in so much pain as I was prior to this surgery. I was down to less than fifty percent of my hearing in that ear," shared Cheryl. "I'm just amazed at how well the surgery turned out. Everyone at UM Health-West, including Dr. Figueroa, was just wonderful."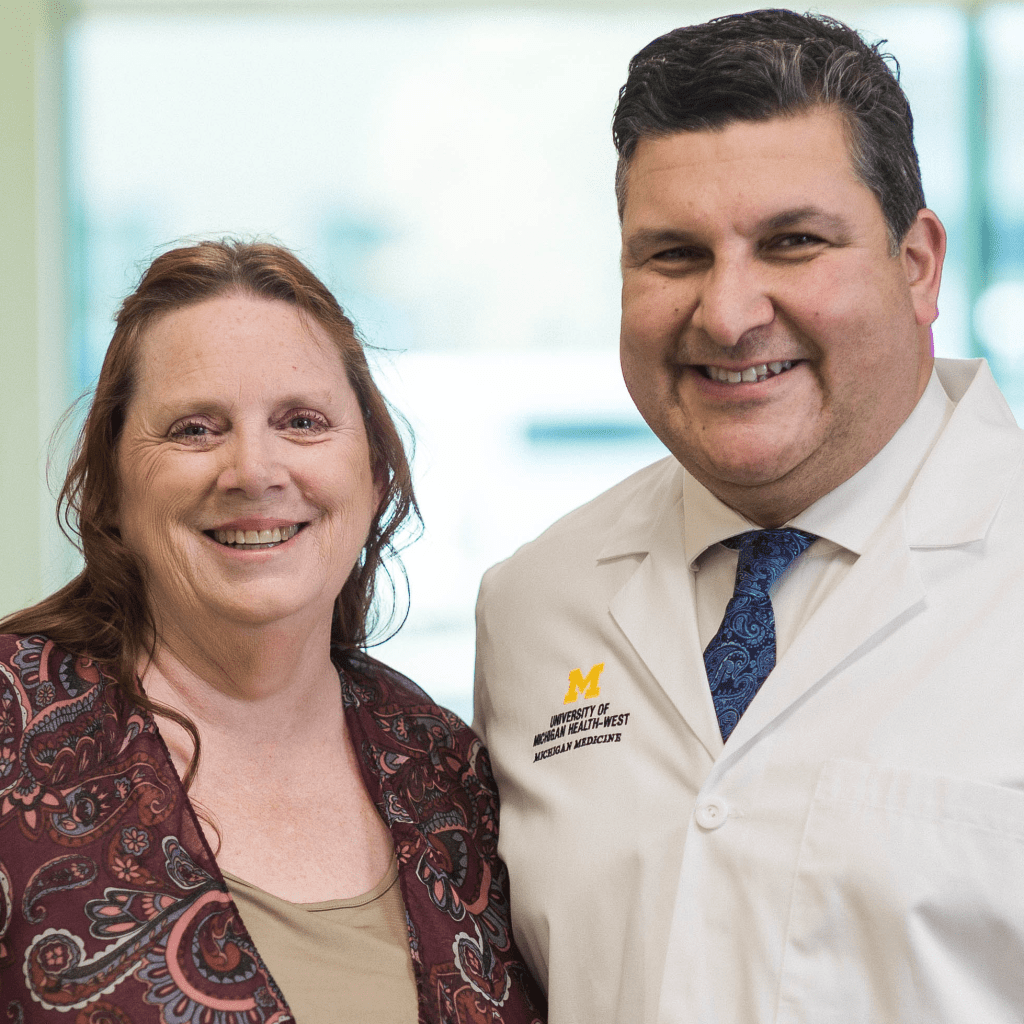 The success of Cheryl's surgery emphasizes how the exoscope will change the way we treat these types of patients moving forward.
"We were able to adapt our techniques for superficial skull repair to a more complex base of skull repair because of the spectacular visualization provided by the exoscope," Dr. Figueroa shared. "It gave us confidence to proceed, and as a result, Cheryl's hearing was restored."
When you support the UM Health-West Foundation, Cheryl's victory becomes yours, too.
Please consider making a gift to support lifesaving treatments and innovative technologies. We're here to change lives. And we can't do it without you.
---
The Aesculap Aeos Robotic Digital Microscope (exoscope), obtained with funding from the University of Michigan Health-West Foundation, offers multiple advantages to the UM Health-West Neurosciences team. Learn more about the next generation of microsurgery.