Excellence Beats Here
Welcome to a new era of heart and vascular care in West Michigan, where leaders in cardiology and cardiovascular medicine practice at the forefront of diagnosis, treatment and prevention. Their expertise gives you the confidence of being at the center of the most comprehensive, advanced care available.
Saturday convenience hours now available, call 616.252.5950 to schedule your appointment today. Referrals are required for new patients.
---
Advanced Cardiovascular Care Treatment for families in West Michigan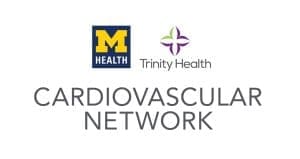 The Cardiovascular Network of West Michigan, a joint venture between Trinity Health and University of Michigan Health-West, leverages the combined resources and capabilities of the two award-winning West Michigan health systems and Michigan Medicine's Frankel Cardiovascular Center, one of the nation's highest-rated centers for cardiology and heart surgery.
---
Our Experts
Our renowned team of specialists applies decades of training and the latest research to bring you the most comprehensive, high-quality heart and vascular care available. We have gathered industry leaders in everything from heart attack treatment to sophisticated diagnostic care and device implantation.
---
Treatments & Capabilities
University of Michigan Health-West has earned recognition as an Accredited Chest Pain Center, along with accreditations for vascular diagnostic testing, echocardiography, nuclear cardiology, nuclear medicine and more. Whatever your condition or need, we have the capabilities and expertise you seek.
---
Patient Stories