The COVID-19 public health emergency declaration will end on May 11, 2023, which will lead to some changes in patient care. Below is important information about changes that may impact you. This page will continue to be updated with new information as additional changes are made. Please check back for more details.
Patients may start to receive charges for COVID-19 testing. Fees for COVID-19 tests will now be determined by individual insurance plans. Please contact your insurance provider directly for more information on potential costs for testing.
Important update for patients enrolled in Medicaid: The State of Michigan will be reviewing Medicaid enrollment rosters and likely requiring some residents to re-apply for coverage. You will be receiving a letter from the State with further information. Michigan Medicine offers a full explanation about the changes to Medicaid, which you can read by clicking here to view the article on their website.
What to do if you have symptoms or are COVID-19 positive
If you are experiencing symptoms, have been in contact with someone known to have COVID-19, or are COVID-19 positive we recommend using one of the following options:

Call 911
If you are experiencing life-threatening illness, please call 911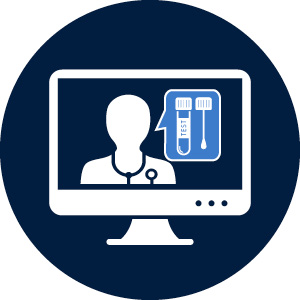 Schedule Visit & Test
If you are experiencing symptoms or have been in contact with someone known to have COVID-19, schedule a visit to obtain a referral for a COVID-19 test. Testing is available at all primary care locations with a referral.
For individuals of *underserved populations, COVID-19 testing is offered free of charge, with an appointment, at the UM Health-West Community Health Center.
UM Health-West Community Health Center
781 36th St
Wyoming, MI 49519
616.252.4100
Hours of Operation:
8 am – 5 pm Monday – Friday
*Members of populations or individuals who face barriers in accessing and using healthcare services, including but not limited to populations/individuals who are underserved because of race, ethnicity, color, national origin, disability, income level, primary language other than English, gender identity, sexual orientation, and geographic location.

Call Your Doctor if COVID Positive with Mild to Moderate Symptoms & Need Treatment
Call your primary care physician office if you are COVID positive and need treatment for mild to moderate symptoms. They will work with you to select the best option. This may include:
Monoclonal antibody therapy
An oral antiviral you can take at home. These may include:

Molnupiravir
Paxlovid (naltremlivir and ritonivir)
---
Vaccine Information
Whether you are eager to receive the vaccine, are waiting to learn more or even have doubts, UM Health-West wants to provide answers to your questions.
Scheduling for the COVID-19 vaccination is currently open to anyone age 6 months and older. Information regarding who is eligible for booster shots is available here.
---
Daily Dashboard
Hospitalized Cases
| | Positive | New (24 hr) | Vaccinated | Unvaccinated |
| --- | --- | --- | --- | --- |
| Admitted | 2 | 1 | 1 | 1 |
| ICU | 0 | 0 | 0 | 0 |
| Ventilator | 0 | 0 | 0 | 0 |
| Total* | 1038 | - | 449 | 608 |
COVID-19 Total Tests
| | Total | Positive | % Positive | Negative | Other |
| --- | --- | --- | --- | --- | --- |
| New (24 hr) | 41 | 7 | 17.1 % | 34 | |
| Cumulative* | 72378 | 12146 | 16.8 % | 60157 | 75 |
As of 10/01/2023 12:00 AM
*Since 12/01/2021
Quick Links
---
COVID-19 Symptoms
COVID-19 is a new strain of coronavirus that easily spreads from person-to-person through respiratory droplets or by contact with an infected surface or object.
Symptoms may appear in as few as two days or as long as 14 days after exposure to the virus. The following list are some of the most common, but do not include all possible symptoms.
COVID-19
Fever or chills
Cough
Shortness of breath
Fatigue
Muscle or body arches
Headache
New loss of taste or smell
Sore throat
Congestion or runny nose
Nausea or vomiting
Diarrhea
FLU
Fever
Cough (usually dry)
Fatigue
Aches & pains
Headaches
Cold
Sneezing
Stuffy or runny nose
Sore throat
Aches & pains
Mild cough (if any)
Allergies
Sneezing
Stuffy or runny nose
Cough
Headaches
Rash
People of all ages can be infected by COVID-19. Older people and those with pre-existing medical conditions or weakened immune systems have a higher risk of developing serious illness from COVID-19. Click here to learn more about what medical conditions that may put you at higher risk for serious illness.
---
Prevention is the best protection
You can protect yourself and help prevent spreading the virus to others if you:
---