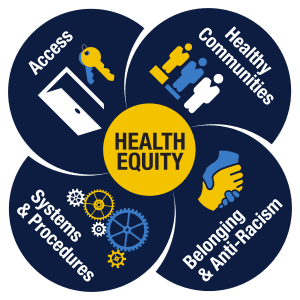 At University of Michigan Health-West, our mission – to relentlessly advance health to serve West Michigan – demands that our care must be accessible to all.
The Office of Health Equity supports this obligation by promoting equitable access to care that is high-quality, safe, and culturally and linguistically appropriate.
We promote healthy communities by engaging with internal and external groups, and by leveraging community partnerships.
We reinforce these efforts by building strong infrastructures, processes and capabilities to support, implement and evaluate health equity initiatives.
With an emphasis on nurturing a culture of belonging and anti-racism, we provide resources to help providers and staff to build and maintain culture competence.
In this way, they can engage with patients and colleagues with cultural humility, creating an environment of dignity, compassion and respect.
We do this because we can only fulfill our mission when all of West Michigan has equitable access to the care we provide.