Proud to Provide the Best Employee Experience
As a recipient of numerous local awards, including being named one of the Best and Brightest Companies to Work For in the nation, UM Health-West is known in the community for providing the best experience for employees. This is a commitment we make because we believe our employees are our most valuable assets. In turn, our employees continue to nominate us as one of the "101 Best and Brightest Employers to Work for in West Michigan" – an award we're proud to win year after year.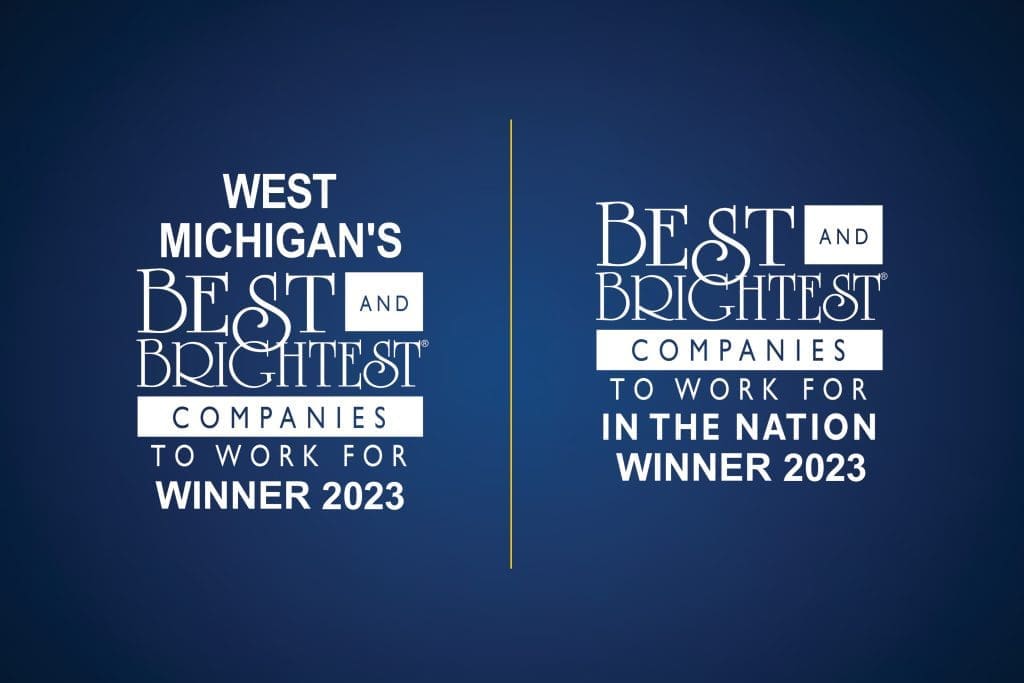 ---
Diversity, Equity and Inclusion for All
Diversity, Equity and Inclusion are central to our mission at University of Michigan Health-West. We foster an environment that is rich in diversity, where every individual can have a sense of belonging, a voice that is heard and the opportunity to achieve and thrive.
This is part of our culture. By amplifying the individual voices and lived experiences of all employees, diverse, inclusive and equitable organizations perform better, are more innovative and benefit from better job performance and satisfaction. On behalf of the patients and communities we serve, we have pledged to confront racism, address health inequities, and champion diversity, equity and inclusion for all.
We actively seek a diverse workforce. To this end, employment decisions, including hiring, promoting and terminating, are based upon an individual employee's abilities, skills, merit and University of Michigan Health-West's business needs, not on sex/gender, race, color, citizenship status, national origin, ancestry, gender identity, sexual orientation, age, religion, creed, physical or mental disability, marital status, veteran status, height, weight or any other protected category.
---
Total Rewards Program
We offer great benefits and opportunities for career and personal growth, including:
Competitive pay, shift differentials and premium payments
Comprehensive health, dental, life, disability and vision benefits
Paid time off
Retirement plans with employer contributions
Flexible spending accounts
Education assistance
Flexible schedules
Flexible dress code
Employee assistance program
Continuous education
Employee health services
---
Bonus Programs
We have a variety of bonus programs currently available. Please click here for more details.
---
COVID-19 Vaccine
For anyone beginning employment with University of Michigan Health-West on or after November 1, 2021, a full COVID-19 vaccination is required unless you have an approved medical exemption or religious exemption, or the position will be 100% remote.
---
Integrated Healthcare System
UM Health-West serves more than 250,000 patients annually from across West Michigan and beyond. In addition to a 208-bed hospital, which provides a comprehensive array of inpatient and outpatient healthcare services, UM Health-West has a growing number of neighborhood outpatient centers and offices throughout West Michigan. We also provide a community clinic for the under-served and student health clinics on the campuses of Grand Valley State University and Aquinas College. With more than 500 physicians on staff, UM Health-West provides a growing number of specialty health services, including cancer treatment, heart and vascular, neurology, pulmonology and others. To see where we are located, click here.
---
Community Involvement
UM Health-West is committed to providing the best experience for our community. Our Live Healthy program offers on-going free and low-cost community health screens, seminars, fitness classes and support groups to help people live healthier lives. Our popular Farm Markets, held weekly spring through fall in front of UM Health-West Hospital, offer locally grown produce, crafts, plants and more to employees and our community.
As the medical provider of choice for leading area sports teams, races and events (the Grand Rapids Griffins and UM Health-West Grand Rapids Marathon, to name a few), our Sports Medicine and volunteer teams strive to keep all athletes and active individuals safe, healthy and performing at the top of their game. Through these and other programs, UM Health-West is engaging members of our community to lead healthier lives.