Pediatric Vaccination
Can my child be vaccinated?
The CDC recommends children 6 months and older receive a COVID-19 vaccine by Pfizer-BioNTech or Moderna. These can be scheduled through MyChart or by calling your child's primary care provider's office.
Are the children's vaccines different?
As with adults, children ages 5-11 receive multiple, specially sized doses in a series. Each schedule is different based on age and vaccine manufacturer, as shown in this table: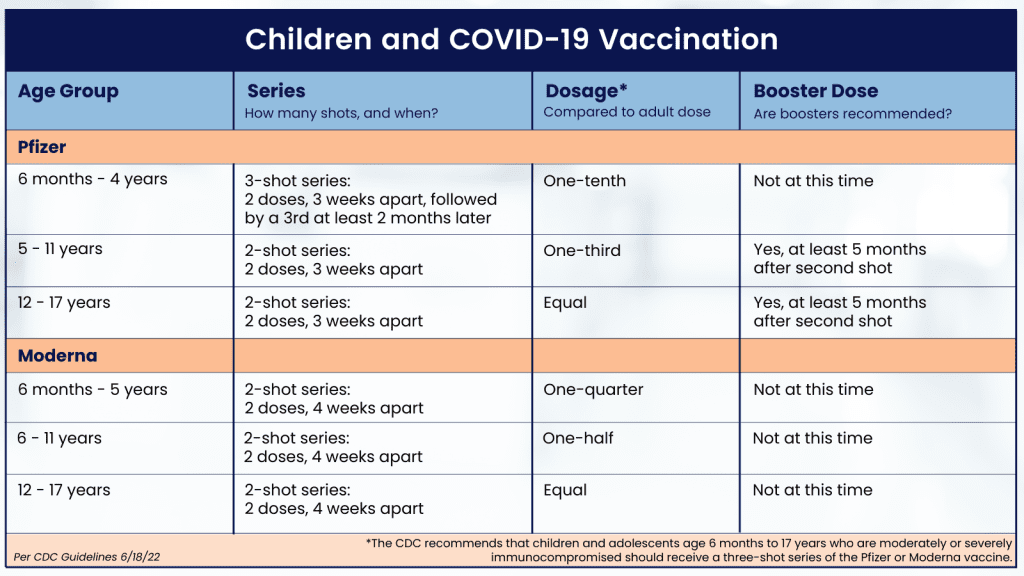 Aren't children at very low risk of contracting COVID-19?
How were the vaccines tested for children?
Scientists conducted clinical trials with thousands of children and teens to establish their safety and effectiveness. The COVID-19 vaccines continue to be monitored under what the CDC describes as the most comprehensive and intense vaccine safety monitoring program in the U.S. history. Read more about the development, testing and monitoring of vaccines.
What about serious side effects?
Regulators analyzed the risk of a potential side effect, myocarditis, a swelling of the heart muscle. They found no cases of this condition among children in the clinical trials.
Although myocarditis has been reported as a side effect among adolescent and young adult vaccine recipients, this condition most often is caused by a viral infection – it is 16 times more likely among COVID patients compared to uninfected patients.
Are other COVID-19 vaccines being considered for children?
Studies continue for other vaccine makers. Moderna has reported promising results in a study of its vaccine among more than 4,500 children ages 6-11.
Additionally, studies continue for the use of vaccines in children 5 and younger.
---
Booster Shot
Who is eligible for a booster or third dose?
Booster shots are authorized for anyone 12 and older, at least five months after receiving their second dose. Pfizer is the only vaccine currently authorized for those 12-17, this includes booster shots.
For those who received the two-shot Moderna vaccine, boosters are recommended for everyone 18 and older. The booster can be either the Pfizer or Moderna vaccine.
Any adult 18 years and older who received the single-dose Johnson & Johnson vaccine is eligible to receive a booster of the Pfizer or Moderna vaccine, if at least two months have passed since the initial shot.
*Per CDC eligibility, UMH-West is now offering a second booster of the Pfizer and Moderna vaccine for anyone 50 years and older. Must be at least four months after the first booster.
We were told the vaccines were highly effective. Why do we need a booster?
The authorized vaccines continue to provide very strong protection, particularly against severe illness, hospitalization and death.
However, health officials cite two reasons for the need for a booster: Evidence shows vaccine-induced protection against COVID-19 infection begins to decrease over time, which also occurs with a natural infection. And the initial effectiveness is generally not as strong against new variants of the coronavirus. Boosting the previous vaccine series should provide more protection against emerging variants.
This is common with vaccines. Many require multiple doses – the polio vaccine and the diphtheria-tetanus vaccine are just a couple of common examples.
I'm not vaccinated. Is it too late to bother getting my first shot?
It's not too late! Vaccination is recommended for everyone, with rare exceptions for allergies, 5 years and older.
Although UM Health-West already has distributed tens of thousands of COVID-19 vaccines, we have supplies to continue immunizations.
The vaccines authorized for use in the United States (in addition to emergency use authorizations, the vaccine by Pfizer-BioNTech now is fully licensed for ages 16 and older) are highly effective, particularly in preventing severe illness, hospitalization and death.
Why does it seem as if guidelines change so often?
This disease was essentially unknown before 2020, and the vaccines have been in wide use in the United States for even less time. Every day brings more studies on what is safe and what is not.
This emphasizes why it is important to apply as many precautions as possible to prevent COVID-19 and to keep reducing the risk to the community.
By combining individual precautions (wearing a mask in public, keeping our distance) with shared precautions (testing and vaccination efforts) we can be confident that we will bring the pandemic to an end.
---
Delta, Omicron And Other Variants
What is a coronavirus variant, and why should I be concerned?
Variants are common with every virus – think of the seasonal flu as an example. Every time a virus reproduces, there is a chance for a genetic copying "error" or mutation.
Mutation and evolution often result in a virus that spreads more easily, which is what appears to have happened with the highly contagious Delta and Omicron variants.
This is why it is so important to reduce infections through vaccination and other precautions. Every time the virus is passed on is another opportunity to mutate.
I'm fully vaccinated. Do I need to worry about the variants?
The greatest risk, especially for severe illness, is for unvaccinated people. However, no vaccine is 100% effective.
The COVID-19 vaccines authorized for use in the United States (the vaccine by Pfizer-BioNTech now is fully licensed for ages 16 and older) continue to show strong protection in preventing severe disease, hospitalization and death.
Studies also show that it is possible for fully vaccinated people to experience "breakthrough" infections and spread the virus to others.
For these reasons, the CDC is recommending layered prevention strategies, such as wearing masks in public settings in addition to being fully vaccinated and boosted.
Choosing A Vaccine
Which vaccine should I get?
The widely accepted medical recommendation is that the best vaccine to receive is the vaccine that is first available for you. Additionally, the CDC's current guidance is that "in most situations, Pfizer-BioTech or Moderna COVID-19 vaccines are preferred over the Janssen COVID-19 Vaccine for primary and booster vaccination."
Each of the three currently authorized vaccines offers outstanding protection against COVID-19. Each has been scientifically tested with constant monitoring for safety with diverse populations.
Shouldn't I take my chances with COVID, rather than a blood clot?
The risk of COVID-19 is far more significant than the very small risk of adverse effects from any of the vaccines.
With hundreds of millions of doses of COVID-19 vaccines administered in the United States, serious adverse effects have been reported in a tiny fraction of a percent of those who received the vaccine. For example, anaphylaxis, a severe allergic reaction, has occurred in about 5 people per million vaccinated.
By comparison, thousands of unvaccinated Americans are hospitalized every single day with COVID-19.
---
About COVID-19 Vaccines
What is the difference between the vaccines?
While each takes a slightly different approach, all are safe and effective.
The first two vaccines to be authorized for use, by Pfizer-BioNTech and Moderna, (the vaccine by Pfizer-BioNTech now is fully licensed for ages 16 and older) use mRNA technology to teach the body's immune system to build defenses against the coronavirus. These vaccines start with a regimen of two shots delivered several weeks apart. The vaccines also have special ultra-cold storage requirements.
The vaccine by Janssen (a division of Johnson and Johnson) uses a harmless adenovirus (such as the virus we refer to as the "common cold") to deliver genetic instructions to teach the body to protect against the coronavirus. This is a single-shot vaccine with conventional storage requirements, making it easier to distribute.
Will taking the vaccine give me COVID-19?
None of the vaccines authorized for use can give you COVID-19. They do not contain the coronavirus that causes COVID-19.
How much will the vaccine cost?
The vaccine itself is funded with federal tax dollars. A small fee is charged to administer the shot, but this fee should be covered by public or private insurance, or by a government relief fund for the uninsured. Cost will not be a barrier to vaccination.
I heard that these vaccines use some new technology. Isn't that dangerous?
The Moderna and Pfizer-BioNTech vaccines were developed using "messenger RNA," or mRNA, to teach the body to fight off the coronavirus. Although this is a breakthrough for vaccine development, the technology has been around for decades, and it has been clinically tested in the treatment of a wide range of infections. Doctors and researchers believe mRNA has the potential to fight other diseases, like cancer.
The third vaccine authorized, by Janssen (a division of Johnson & Johnson), uses a safe and proven approach that has been studied since the 1970s. It uses a harmless virus to deliver instructions to teach the body to protect against the coronavirus.
Won't these mRNA vaccines change my DNA?
---
Vaccine Distribution
Who should get the vaccine?
Where will the vaccine be administered?
How is it administered?
The COVID-19 vaccine is delivered with an injection in the arm. Similar to a flu shot, the process takes just a few minutes. Depending on which vaccine you receive, you will likely need a second dose several weeks later to complete the series. You will receive information about scheduling the second dose, when you schedule your vaccination. Booster shots also are authorized for ages 12 and older, after at least five months have passed since completing the vaccination series.
Will I know which vaccine I am receiving?
Yes, every patient will be informed which vaccine they are receiving.
---
Safety, Side Effects & Other Concerns
What are the side effects?
The most commonly reported side effects, which typically lasted several days, are pain at the injection site, tiredness, headache, muscle pain, chills, joint pain, and fever.  These symptoms, which may be more likely and noticeable after the second dose or booster, are typically mild and temporary. They are indications that the vaccine is working.
Serious side effects are extremely rare. They include a type of blood clot called thrombotic thrombocytopenia, and an allergic reaction called anaphylaxis.
These vaccines are the most closely monitored for safety in U.S. history. Find out more.
Is it true that younger patients have more serious side effects?
Clinical trials found that the younger age group was slightly more likely to experience fever, aches and pains. This is possibly due to the robust immune system in younger patients.
Warnings about rare allergic reactions, including anaphylaxis, are the same as for adults. Although the risk is extremely rare, the FDA says the vaccine should not be given to anyone with a history of a severe allergic reaction to any ingredients of the vaccine.
What is the risk of an allergic reaction?
The CDC, which is closely tracking the rate of allergic reactions to vaccines, reports that they are rare. Anaphylaxis, for example, has been reported in about 5 people per million vaccinated.
Although the vaccines do not contain eggs, latex or preservatives, those who have allergies to eggs or other substances should remain after vaccination for 30 minutes for observation.
You should not get the vaccine if you had a severe allergic reaction after a previous dose, or if you are severely allergic to any ingredient of the vaccine. See the ingredients for the Pfizer vaccine, the Moderna vaccine and the Janssen/Johnson & Johnson vaccine.
General information about vaccines and allergies can be reviewed here.
Can I get the vaccine if I've had COVID-19 or think I may have had COVID-19 in the past?
Yes, you should get vaccinated if you've had COVID-19 previously. There is not enough information currently available to say if or for how long after infection someone is protected from getting COVID-19 again; this is called natural immunity. Early evidence suggests vaccination significantly reduces the risk of reinfection.
The CDC advises that previously infected people should delay vaccination until they are fully recovered and able to end their isolation. Talk with your doctor if you have questions about receiving the vaccine.
Should I get the COVID-19 vaccine at the same time as another vaccine?
You can get the COVID vaccines and other vaccines at the same visit The CDC no longer recommends a timing gap.
Can the vaccines cause infertility or miscarriage?
No cases of infertility or miscarriage have been linked to the vaccines. A disinformation campaign has been circulating online, claiming that antibodies interfere with placental proteins and prevent pregnancy. This is not plausible, because no viral infections (which trigger antibody production) have been linked to infertility. The CDC recommended that pregnant and lactating patients receive the vaccine if they are eligible.
Do the authorized vaccines contain fetal tissue?
The Janssen (a division of Johnson & Johnson) vaccine has drawn attention because the manufacturing process used cells derived from fetal tissue. These cloned cells were used to grow the harmless adenovirus that the vaccine uses to deliver genetic instructions to teach the body to protect against the coronavirus. The vaccine itself contains none of the cells.
The other two vaccines currently authorized, by Pfizer and Moderna, were tested on fetal cell lines. However, cells were not used in development or production of those vaccines.
In all cases, these cells are clones or "immortalized" copies of decades-old fetal cells. Immortalized cell lines are established by culturing fetal cells in such a way that they continue growing and multiplying indefinitely. While immortalized cell lines began with fetal cells, they no longer contain fetal body parts, and no fetal tissue remains. No cells remain from the original fetal tissue.
---
After Vaccination
For additional information, visit Michigan Medicine's COVID-19 Vaccine FAQs.