DAX AI Technology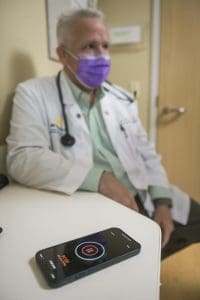 If one thing can stand between patient and provider during a visit, it is the computer.
That's no criticism of the integration of digital tools, which have become essential to creating a record of each patient encounter. Even so, every provider knows the challenge of typing on a keyboard to take complete and accurate notes while simultaneously trying to focus on the patient in front of us.
Just as importantly, patients notice when our eyes are on the screen instead of on them. This phenomenon gave rise more than a decade ago to the term "distracted doctoring," and it is not just patients who suffer as a result. Documentation demands can overwhelm physicians, whereas connecting with patients is an essential part of feeling more fulfilled in their work.
That's why a group of our providers in West Michigan are piloting an option to improve these encounters, with AI-driven ambient voice technology that records clinical conversations, contextualizes the words and intelligently creates documentation.
University of Michigan Health-West is the first system in the state to pilot the system. We are starting with 13 providers, a mix of primary and specialty care, and have already discovered multiple advantages that suggest this could become a transformative innovation.
---
Home-Based Monitoring
In the wake of the pandemic's second U.S. wave, University of Michigan Health-West launched a 24/7 home-monitoring program for ambulatory COVID-19 patients.
When an attending physician clears an ambulatory COVID-19 patient for home recovery, we equip the patient with an internet-connected tablet and Bluetooth-synched peripherals: thermometer, blood pressure cuff, pulse oximeter, and scale. We teach them how to use the equipment and we send them home.
Patients take multiple readings a day and answer surveys about their wellbeing, including questions that screen for the depression commonly seen with COVID-19 cases. The readings and responses are automatically entered for remote monitoring by a team of medical professionals. Patients have video visits with providers – which family members can join virtually – and can ask for help vial the portal.
No patient wants to be confined to a single room without visitors for any amount of time, let alone the notoriously long length of stay for COVID-19 hospitalization. Studies show patients heal better where they are most comfortable, sleeping in their own bed, eating their own food and surrounded by the comforts of home.
---
Ion Robotic-Assisted Bronchoscopy
A new state-of-the art robotic tool allows University of Michigan Health-West to diagnose lung cancer at earlier stages, which is key to improving survival from the No. 1 cause of cancer death in the United States.
Although the availability of lung cancer screening has improved early detection of potential cancers, a biopsy is required for diagnosis of early stage cancers – and these usually are very small and located in hard-to-reach parts of the lung.
UM Health-West is addressing that challenge with the region's first use of the Ion platform, a robotic-assisted bronchoscopy tool for faster, more accurate and minimally invasive biopsies.
The robot's shape-sensing technology allows interventional pulmonologist Dr. Mounir Ghali to precisely guide a thin catheter through the patient's mouth into the airway tree, and safely perform a biopsy even in the smallest and most remote regions of the lung.
---
AI Technology for Mammograms
We have entered a new era of digital mammography in the United States. The FDA approved a high-performance, cancer detection technology that uses artificial intelligence. It's the most cutting-edge breast cancer detection software in the country, and UM Health-West is one of the first in the state of Michigan to implement it.
"As a health institution, it's important that we pay attention to revolutionary technological advances like AI mammography, not only because we have a commitment to clinical excellence, but also because it's our duty to provide the highest quality care to patients," says UM Health-West Chief Medical Officer Ronald Grifka, MD.
"This software will make a huge impact on the digital breast imaging industry," explains UM Health-West Radiologist Mark Traill, MD. "This technology will also revolutionize the practice of radiology and expand success and transparency."
The software is called ProFound AI™ and was developed by global technology leader iCAD. Using artificial intelligence, the software is trained to detect malignant soft-tissue densities and calcifications. It provides radiologists with scoring information representing the likelihood that a case is cancerous based on the large dataset of clinical images used to train the algorithm.
Mammography is the gold standard for breast cancer detection, but the technology isn't perfect. Images can be difficult to read because of a patient's breast anatomy and the density of the breast tissue. In some cases, the cancer is hidden, and radiologists are unable to detect it with their eyes alone.
"What the ProFound AI™ system does is analyze 3D tomosynthesis mammogram images and circle areas where lesions might be present," Trail explains. "From there, two percentage scores are calculated. The lesion is given a Certainty of Finding score of 0-100%— the higher the percentage the higher the likelihood of cancer. The second Case Score represents how confident the algorithm is that a case is malignant."
Traill says having this software as a first line of defense to human readings is a critical safety net. The software is able to detect abnormalities that radiologists can't see, and he believes there will be fewer cases that fall through the cracks. In addition to improving detection rates, ProFound AI™ has been proven to reduce false positives, decrease physician reading time by 50% and patients recall rates were reduced by an average of 7%.
"This improves the entire process for both radiologists and patients," Traill emphasizes. "The patient can rest confident in the results, there's less likelihood they'll be asked to return for additional imaging, and reduced reading time means radiologists will read more images throughout their day."