Give today to provide patients like Hannah with access to innovative treatments and personalized care at University of Michigan Health-West.
---
"There really are no words…to encapsulate how grateful we are for the care Hannah has received."- Connie Lawrence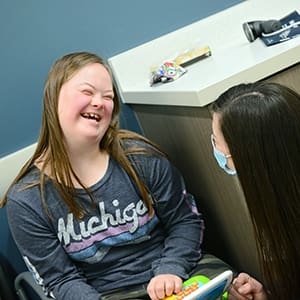 As the parents of a daughter with a congenital heart defect and Down Syndrome, we get one chance to make the best medical decision about our child's care, and the outcomes that happen can be life changing.
When Hannah was born 20 years ago, she wasn't pink, but rather had a blue hue to her skin. We were hoping to celebrate the birth of our first daughter, when she was quickly taken away by doctors to be evaluated. They returned with a diagnosis that we had never heard of: Our daughter had Tetralogy of Fallot.
This specific diagnosis involves four heart defects that occur together, including an abnormal pulmonary valve (often too small), thickened right ventricle of the heart, hole in the wall between the two ventricles of the heart and the aorta opening over both ventricles instead of one.
Over time, we saw the lasting effects of this as Hannah often struggled to maintain her energy levels and keep up with her four siblings. By the time she was 8 years old, she had already undergone two open-heart surgeries.
Part of Hannah's journey was coming to our Pediatric Cardiology program over 15 years ago. Her team consists of Dr. Ronald Grifka, Cardiologist and Chief Medical Officer; Jason Tapio, Cardiology Registered Nurse and Megan Rogers, Child Life Specialist.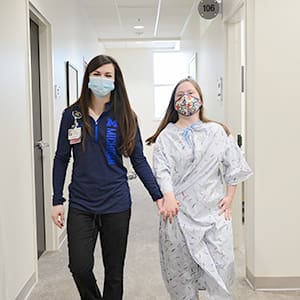 These amazing individuals have been a lifeline for us as we navigate Hannah's complex healthcare needs. They continue to make her medical journey comfortable by providing extensive knowledge of our options and risks and bridging our team of doctors to provide outstanding care for Hannah.
The last 15 years have prepared Hannah, and us as her parents, for what we knew was inevitable: a third open-heart surgery. When Dr. Grifka finally sat us down and shared that it was time to start having conversations with Michigan Medicine to prepare for surgery, we knew we could trust his recommendation and felt confident with the decision.

Hannah's third open-heart surgery was done this past summer, just shy of her 20th birthday. As a parent, no one can prepare you for the moment your child is wheeled into the operating room, and it never really gets easier.
"The moment she returned, with pink fingers and toes, it was like seeing her re-born all over again."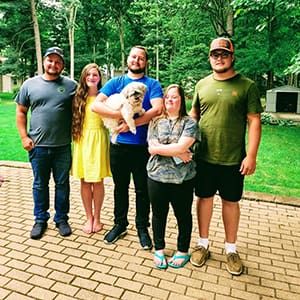 Our daughter has a new lease on life thanks to the comprehensive care she's received. Just six weeks after surgery, Hannah participated in her very first dance class. She has a renewed energy, can breathe easier and is excited to take on new adventures.
Please consider making a gift today. In Hannah's lifetime, nearly one million children have been born in the United States with a heart defect. Your dollars can literally change lives and advance care for patients in West Michigan like our daughter.
Partnering with families is not just a one-time process, but a foundational value of University of Michigan Health-West. Please come alongside families like ours as a donor to make lives better, and ultimately, heal hearts.
Sincerely,
David & Connie Lawrence
---
Your gifts are so important, providing resources and equipment for our caregivers to effectively take care of
their patients when it matters most. Through your support, the Foundation provided the initial funding to activate the Child Life Department 12 years ago and continues to fund many critical projects under their care. Your generosity will allow us to continue funding innovative advancements as we launch an open-heart surgery program in the coming year.