There's no question that healthcare workers are—and have always been—heroes in our communities. They were heroes long before yard signs celebrating and thanking them filled neighborhoods. They were working long hours and providing critical care to patients before PPE shortages and face shields were the norm. Now, the shortage we're facing isn't equipment, it's the heroes themselves.
Department of Health and Human Services data, collected by The Atlantic in mid-November of 2020, shows 22% of American hospitals faced a staffing shortage, and that percentage is expected to rise. This puts extreme pressure on healthcare organizations and staff.
University of Michigan Health-West Responds to Demand
"In West Michigan, we aren't immune to the healthcare worker shortage," says UM Health-West's Chief Human Resources Officer Jennifer Gonzalez. "Because of that, we're looking for innovative ways to attract talent and let them know that UM Health-West is the best choice for their career."
In response, University of Michigan Health-West is instituting a High-Demand Bonus Program to recognize, retain and provide meaningful reward to qualifying positions that are in extreme high demand. Qualifying positions include:
Certified/Registered Medical Assistant
Endoscopy Technician
Endoscopy RN
Central Processing Department Technician
Certified Central Processing Technician
In particular, UM Health-West is in seeking qualified medical assistants to fill positions in a variety of service lines and departments, including cardiology, primary care, neuroscience, and obstetrics. The positions are at office locations in Rockford, Wyoming, Grand Rapids, Hudsonville, Lowell, and Comstock Park.
Visit UM Health-West's career site to see the full list of available positions, requirements, qualifications, and responsibilities.
Qualified new hires who begin employment on or before January 31, 2021, will receive an initial sign-on bonus of $1,500, and an additional $500 every six months for the next 18 months of consecutive employment, adding up to a maximum bonus of $3,000.
Medical assistants share employment experience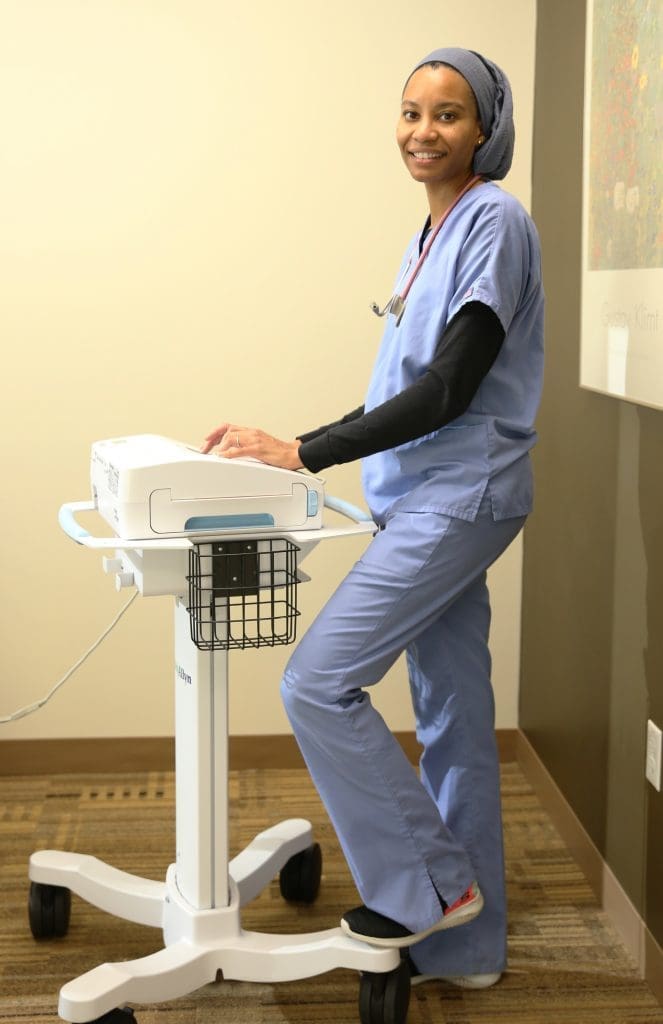 "I love what I do," exclaims UM Health-West Cascade medical assistant Ijlal Nuriddin. "I love my interactions with patients, and I love assisting our physicians with patient care."
Nuriddin has been with UM Health-West for almost seven years and says the culture within the organization is very special. "UM Health-West is a place where you are encouraged to grow, learn, and ask questions," she shares. "The providers consider MAs partners in patient care and encourage us to dive deeper, not only for our patients, but for our own career advancement."
Pam Craine-Turley has worked as an MA within the endocrinology department at UM Health-West's Park East office for the last few years. But she actually got her start in healthcare at UM Health-West back in the '90s when the hospital was on Boston St.
"Coming back to UM Health-West after many years away was the best career move I've ever made," Craine-Turley reveals. "Here, everyone from our care teams, to managers, to executive leadership care about each other. People here are warm and welcoming, and it feels like home."
Even though Nuriddin works as an MA in the primary care setting and Craine-Turley is an MA in a specialty department, they both have similar employment experiences. They say UM Health-West has a true team environment where everyone's thoughts and expertise are valued. The team recognizes that, as a medical assistant, you play an integral role in the care team model.
An opportunity to truly make a difference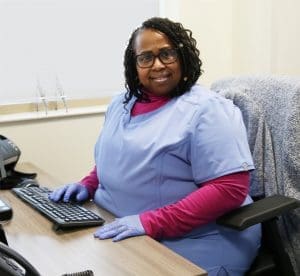 "As a medical assistant, I am on the front lines of patient care," Nuriddin explains. "You never know what a patient is going through physically or emotionally, and it's our job to meet them where they are—with whatever they're carrying—with compassion and empathy. I get to be that bridge between the patient and the physician and make sure they both feel safe, informed, and comfortable."
Because of the high demand for medical assistants across the country, MAs have many options to choose from. However, Nuriddin and Craine-Turley agree that UM Health-West is the smart choice for those looking for a place to make a difference in the lives of patients.
"Look for an organization that values your insights and allows you to exercise the full capacity of your training," Nuriddin says. "That's what you'll find at UM Health-West. This organization produces strong, confident MAs who are appreciated."
"I would encourage MAs looking for employment to find a place that offers an open-door policy with managers and providers," Craine-Turley suggests. "Look for team members who are approachable and transparent. I've found that at UM Health-West. I've enjoyed every bit of my experience over the last three years. I couldn't ask for anything better."