Identifying Employees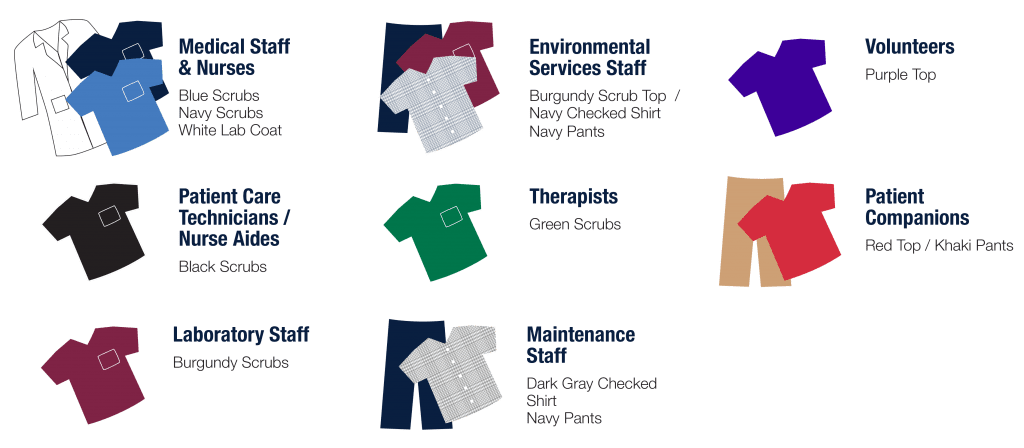 Medical Staff & House Staff
Your admitting physician is a member of the hospital's medical staff. He or she will supervise your medical care at UM Health-West Hospital and arrange for your tests, medications and diet. Your physician may call in other specialists for consultation or assistance. As the coordinator of your treatment, your physician should be consulted if you have questions about your condition.
Residents, Interns & Medical Students
As a teaching institution, UM Health-West Hospital offers the services of residents, interns and students of various health disciplines. These practitioners assist your physician with your care. They will be permitted to attend to your needs and review your medical record, as appropriate, unless requested otherwise by you and your family.
Nursing Staff
At UM Health-West Hospital, we provide 24-hour care by a team of professional registered nurses (RNs), licensed practical nurses (LPNs), and nurse assistants. Each nursing unit has a management team responsible for coordinating patient care. Please feel free to contact your assigned nurse or the unit manager if you have questions or concerns.
Dietitians
The hospital maintains a staff of full-time registered dietitians (RDs) to meet your dietary needs during your stay. Please discuss questions regarding your meals or diet with your nurse.
Case Managers & Social Workers
Case managers and social workers are available to help patients and family members with the social, emotional and financial aspects of illness and hospitalization. They are also trained to evaluate when it's time for you to leave the hospital and will work with your physician in discharge planning when necessary.
Spiritual Care
In addition to making sure all your medical needs and concerns are addressed, we also care about your emotional and spiritual needs. If you would like to speak with your spiritual care provider, please ask a family member or tell your nurse and we will have a staff member contact your place of worship. If you are not affiliated with a church and would like spiritual support, please inform your nurse.
Housekeepers
A member of our Environmental Services staff will clean your room daily. Routine cleaning is completed between 7:00 am and 3:30 pm If there is a housekeeping problem in your room, call Environmental Services at extension 7800 and it will be taken care of as soon as possible.
Volunteers
Volunteers contribute many hours of service to the hospital and patients. They supplement the services of the hospital staff in many ways. You can identify them by their purple-colored shirts or smocks and their nametags.
Other Personnel
The UM Health-West Hospital staff includes many other professionals and behind-the-scenes workers, such as patient account representatives, laboratory and radiology technicians, physical therapists, engineers and secretaries. All of them contribute toward your wellbeing while you are at UM Health-West Hospital.