Education & Residency Leadership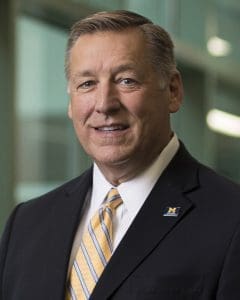 ---
Dedication to Education
UM Health-West Hospital has established itself as a major teaching hospital. Our affiliation with the Statewide Campus System of Michigan State University College of Osteopathic Medicine has strengthened our ability to prepare physicians for the competitive and rapidly evolving health care profession.
UM Health-West's residency programs are accredited by the Accreditation Council for Graduate Medical Education (ACGME).
---
About UM Health-West
Our mission, vision and values reflect our legacy, shared purpose with University of Michigan Health and stake a bold expectation for our future.
MISSION
We are relentlessly advancing health to serve West Michigan.
Vision
Our innovations change care. Our care changes lives.
Our History
This dream began in the early days of World War II, with a group of doctors dedicated to the ideal of patient-centered, holistic care.
They took out second mortgages and borrowed on their life insurance policies to open a 28-bed osteopathic hospital in a converted house in Grand Rapids. They promoted their dream as a "a friendly home of hope and hospitality."
Today that dream has grown into the 170-acre the Village, anchored by the award-winning University of Michigan Health-West Hospital and with a network of convenient community-based offices throughout West Michigan.
Our Facility
---
Our Programs
All postgraduate training programs are accredited by the Accreditation Council for Graduate Medical Education (ACGME)
Residency programs in
Fellowship in Sports Medicine
Ambulatory-care teaching clinics in family practice, obstetrics/gynecology, internal medicine, surgery, orthopaedic surgery and urology with over 25,000 visits per year
Statewide Campus System of Michigan State University College of Osteopathic Medicine educational day programs in emergency medicine, orthopaedic surgery, family medicine, internal medicine, obstetrics and gynecology, general surgery, and urology
---
Benefits & Salary Information
PGY-1 Resident Benefit Package
Annual pay of $ 56,000 (PGY1)
Health and dental insurance
Professional liability, disability, and term-life insurance
$2000 supplemental educational allowance
3 personalized lab coats
15 PTO days
Food stipend
Resident/Fellow Benefit Package
Annual pay of $ 58,000 (PGY2), $ 60,000 (PGY3), $ 62,000 (PGY4), $ 64,000 (PGY5)
Health and dental insurance
Professional liability, disability, and term-life insurance
20 PTO days
Personalized lab coats
$2000- supplemental educational allowance for additional expenses
Food stipend
Applicants must be U.S. citizens, permanent residents of the U.S., or have a work authorization card or a J1 Visa. University of Michigan Health-West does not generally sponsor Visas for medical residents, subject to the limited instance where the Hospital determines that U.S. citizens or permanent residents of equal training, experience and competence are otherwise unavailable for the residency program at issue.
---
Resident Research
Monthly journal clubs
Weekly educational days
Practice management
Procedural workshops
Simulation experiences
Morbidity and Mortality Lectures
Tumor Board
Statewide campus system educational days
Research consultation and mentoring available through Clinical Research Department and Statewide Campus System
Technical assistance from faculty for required research paper
Case reviews
Grand Rounds
---
Why Choose West Michigan?
As the center of a thriving region of more than 900,000 people, West Michigan combines the characteristics of a big city with the charm of a small town.
A snapshot of the area's many fine attributes includes: a growing, diversified economic base; four beautiful seasons filled with just about any recreational activity imaginable; award-winning public and private schools and colleges; country, lakeside, urban, suburban and historical housing within minutes of downtown Grand Rapids; museums, Broadway performances, an opera company, symphony and ballet; a growing art scene that includes the Grand Rapids Art Museum and the annual ArtPrize competition; fine dining and a vibrant night life; over 20 craft breweries that contributed to the title of BeerCity USA; close proximity to the state's more than 3,500 lakes; professional sports teams; top-10 national ranking for affordable housing; and top ranking by Forbes as one of the best cities to raise a family plus much more.
West Michigan is an active and growing multicultural community with lots to see and do. Of course, we'd love for you to visit the area and find out for yourself why living in West Michigan is perfect for individuals and families! Whether you're looking for a house, a job for your spouse or just something to do on the weekend in West Michigan, including Grand Rapids and Wyoming (where UM Health-West Hospital calls "home"), here are some great resources.
---
Diversity, Equity & Inclusion
By embracing the strength of diversity, the justice of equity and the welcome of inclusion, we become a better workplace and center of healing. That's why we track our progress toward DEI goals.
University of Michigan Health-West believes in building DEI strategies into our organization's structure. Everyone has a role to play in this environment, and everyone is a beneficiary. Although policies play an important role in this work, we believe it's also important for DEI values to be part of our culture.
In addition to regular training, our monthly "Third Thursday" workshops are popular interactive sessions for our colleagues to learn about how to best serve and interact with diverse patient and employee populations. Topics have included:
Personal cultures, values and beliefs
Working effectively in diverse teams
Preferred gender pronouns
Racial/ethnic distinctions and disparities
Religious beliefs and health care
Cross-cultural communication
---
GME Verifications
Please submit all GME verification requests to Kristina Noesen
---
Log in or register for MyERAS here.
Learn more about the National Resident Matching Program here.
---