You Belong Here
University of Michigan Health-West is committed to being a safe and inclusive organization to our entire patient population. This includes welcoming individuals of all sexual orientations and gender identities. At UM Health-West, we recognize LGBTQIA+ individuals experience healthcare disparities at disproportionately higher rates and have taken steps to ensure our LGBTQIA+ patients can achieve their highest level of wellness.
These include:
Creating the SOGI Policies, Processes & Experience (SOGI PP&E) subcommittee, with the purpose of monitoring and address SOGI-related UMH-West policies, processes, and education that impact the patient employee experience.
Implementing a Sexual Orientation – Gender Identity (SOGI) cultural competency training, required of UM Health-West workforce members at hire as well as annual refresher training.
Creating space in our MyChart patient-access portal for individuals to communicate their sexual orientation and personal pronouns during eCheck-In.
Implementing SOGI data collection in our Electronic Medical Record (EMR), including the name the patient would like to be called (if different from legal name), pronouns, sexual orientation, gender identity, transition status/transition planning as well as an organ inventory.
Adding personal pronouns to our employee badges to facilitate a culture of safety and inclusion.
---
Your Rights As A LGBTQIA+ Patient, Family Member or Caregiver
UM Health-West is committed to the equitable treatment of all patients and guests. We hold ourselves accountable to this commitment by specifically identifying sexual orientation and gender identity in several UM Health-West policies procedures.
---
LGBTQIA+ Services
UM Health-West is committed to providing high-quality care to our LGBTQIA+ patients that is equitable, affirming and takes into consideration their individual needs and circumstances.
---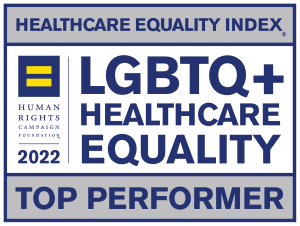 University of Michigan Health-West has earned national recognition for a commitment to equity and inclusion for lesbian, gay, bisexual, transgender and queer patients, families and employees.
With a score of 90 out of 100 possible points in the Human Rights Campaign's national benchmarking tool, the Healthcare Equality Index, UM Health-West is the highest-scoring system in Grand Rapids area and earns designation as an LGBTQ+ Healthcare Equality Top Performer.
The Top Performer recognition is a milestone on UM Health-West's journey of constant improvement in equity and inclusion – with more advances to come. It is also a commitment that UM Health-West will hold ourselves accountable.