Delivering on its promise that "You belong here," University of Michigan Health-West has earned national recognition for a commitment to equity and inclusion for lesbian, gay, bisexual, transgender and queer patients, families and employees.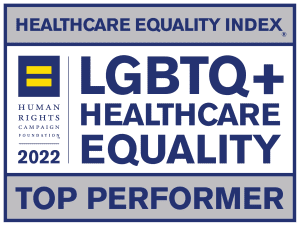 With a score of 90 out of 100 possible points in the Human Rights Campaign's national benchmarking tool, the Healthcare Equality Index, UMH-West is the highest-scoring system in Grand Rapids area and earns designation as an LGBTQ+ Healthcare Equality Top Performer.
This was the first year UMH-West participated in the index, which every two years evaluates healthcare facilities in four categories: training; patient services and support; employee benefits; and patient and community engagement.
"We were pleased to be able to score well, but this isn't the ceiling – it's our new baseline," said Rhae-Ann Booker, Ph.D., Vice President for Diversity, Equity and Inclusion for UMH-West. "We intend to be a leading example – in DEI in general and LGBTQIA+ equity and inclusion in particular. So, we are taking a hard look at what we are doing well and where there is room for improvement."
Thomas Pierce, DEI Program Coordinator for UMH-West, said the Top Performer recognition is a milestone on UMH-West's journey of constant improvement in equity and inclusion – with more advances to come. It's also a statement that the health system is willing to hold itself accountable, he said.
"If someone comes in and they have an imperfect experience, we've set the bar of accountability for ourselves," he said. "LGBTQIA+ patients just want to be able to access a doctor, to be able to walk through the front door and not be misgendered, misnamed, embarrassed or discriminated against – or be asked to leave."
UMH-West has taken several steps to promote equity and inclusion, such as training in LGBTQIA+ patient-centered care; equal benefits for same-sex spouses; expanding the definition of family for equal visitation policies; and publicly posting resources for LGBTQIA+ patients. Sexual orientation and gender identity (SOGI) data are included as part of the confidential patient intake process for appropriate delivery of services. Last year the health system added window decals based on the Progress Pride and Transgender Pride flags with the message, "You belong here."
Welcoming practices like these reflect UMH-West's overall dedication to DEI, said CEO Dr. Peter Hahn.
"Our mission requires us to relentlessly advance health for West Michigan – and there is no room in that mission to exclude anyone," Hahn said. "I'm proud of our team's commitment to inclusion as one of our core values and their enthusiasm to keep building on our progress."