Thoracic Surgery
UM Health-West's Thoracic Surgery program provides expert care with minimally invasive robotic techniques.
---
Our Experts
UM Health-West otolaryngologists have trained at leading medical centers and they are supported through our affiliation with Michigan Medicine.
---
Advanced Cancer Care Treatment For Families in West Michigan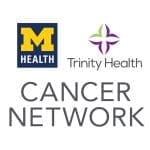 The Cancer Network of West Michigan, a joint venture between Mercy Health and University of Michigan Health-West, leverages the combined resources and capabilities of the two award-winning West Michigan health systems and Michigan Medicine, the academic medical center of the University of Michigan.
---
Treatments & Capabilities
Our expertise covers a wide range of treatments and conditions including:
Lung cancer – focusing on minimally invasive robotic techniques
Pulmonary nodules and benign pulmonary diseases
Pleural diseases
Bronchoscopy
Mediastinoscopy
Benign esophageal disorders
Mediastinal diseases
Chest wall tumors, deformities, and injuries
Hyperhidrosis
Esophageal cancer
Thoracic Outlet Syndrome
Diaphragm Paralysis