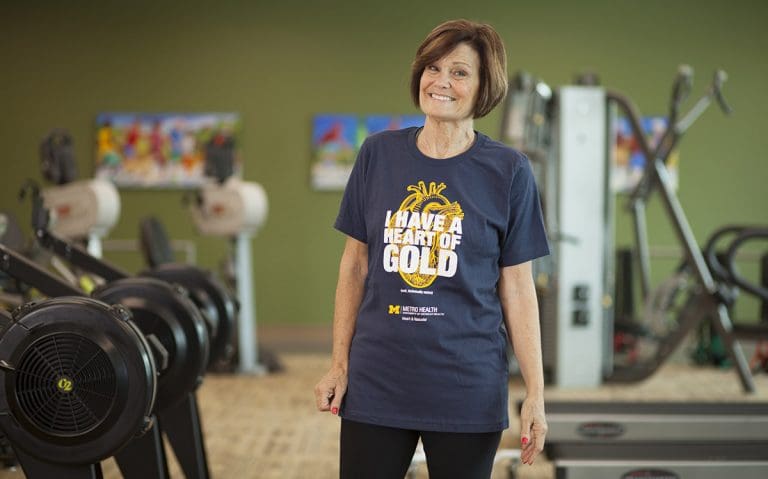 This was Ruth's experience when she went into Metro Health Hospital to be treated for what she later learned was a heart attack.
"The next thing, I woke up in the intensive care," remembers Ruth.
Even though it was a frightening time in her life, Ruth speaks favorably of her time at Metro Health Hospital. "I came out of there just blown away at the care that I got. I've been in other hospitals where you really feel like you're just a patient, you're not a person, but I really felt a lot of people really rooting for me at Metro. It felt great. If it puts a positive spin on a not very positive experience, it makes it better."
Once Ruth got out of the hospital, she enrolled in Metro Health's Cardiac Rehab program. Of making that decision, Ruth states, "I was terrified. You feel like you just want this giant bubble around you so that nothing can hurt you. I was literally terrified to come."
Ruth praises the staff for helping her get through the fear.
As for her confidence level after beginning her Cardiac Rehab program, Ruth says, "For me, mentally, this was the best thing because it got me through that fear. I take my dog on a walk every day now and I know I'm going to be fine. It gave me the confidence to know that I could do that and I wasn't going to have another heart attack doing it. That's been the impact…just giving me tremendous confidence."
When asked if there was anything she was blown away by, Ruth didn't hesitate when she said, "The people."
"You think they have to be professional because it's a professional environment and yet they provide such a human aspect to it. They care about you and how you feel. If you come in, and you're having a rough day so far, they try to make your day better and they try to encourage you. They put a positive spin on everything."
"I get teary-eyed. They are wonderful people. They picked the right people for this program. They really did," she says.