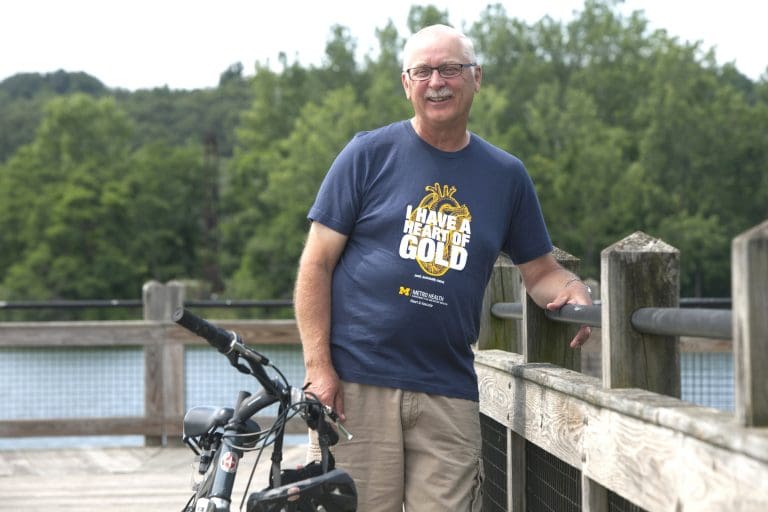 "On March 11, I was pheasant hunting near Hudsonville, and I had a heart attack." Keith recalls.
Keith and his wife Beth had been long time patients of a local hospital, so when Beth got the call about Keith's heart attack, she knew where she wanted him to go.
"Beth told them to take me to Meijer Heart, a heart clinic downtown. The ambulance drivers diverted to Metro because they didn't think I was going to make it. I was 100% blocked. They called it the widow maker. I was not supposed to survive," Keith remembers.
Although not her initial choice in care, Beth was impressed with the care Keith received at Metro. "They had Keith in the cath lab within approximately half an hour, give or take a few minutes. That's impressive because time is heart muscle. The faster they could get him in for an intervention, the more heart muscle they could preserve."
Keith continues, "Timing was everything for me to get in there and get that artery opened. I lost quite a bit of the heart function."
While in the hospital, Keith and Beth discussed his future options. "Beth, being a registered nurse, said to me, 'Cardiac Rehab is what is going to get you back to close to normal. Because the heart is a muscle.'"
After his surgery, Keith and Beth met with the Metro Cardiac Rehab team.
"On Monday, Melissa came into our room to visit us and told us about the program. When she left the room, I said to Beth, 'I have to go to Metro Rehab because Melissa is just so excited about her job.'"
"I wasn't afraid to get in there and go to work because I knew the harder I worked the better, based on what Beth was telling me. The heart's a muscle and the more you make that thing work, it's like lifting weights, it brings that muscle back," Keith states.
Of his time in Cardiac Rehab, Keith says, "I actually look forward to it. There was one machine there I used to joke with the Cardiac Rehab people about, that I had a love-hate relationship with the rowing machine. I love to try to beat what I did before. I'm a very competitive person. I worked hard in there."
Beth joined Keith for most of his sessions, and learned a lot alongside him. "I never dreamed that it would be such a team effort. Because when you think about planning your meals and grocery shopping and what you're going to eat for dinner,—even as far as going out to a restaurant—the education part is huge. I don't think people realize how important that part of it is."
As a final thought, Keith adds, "The best way for me to describe it is the company I work for, a part of our mission statement is you exceed your customer's expectations. The Metro Health team has far exceeded my expectations, and the people were just fantastic."
"Metro Health basically saved my life, and the Cardiac Rehab program strengthened my heart."