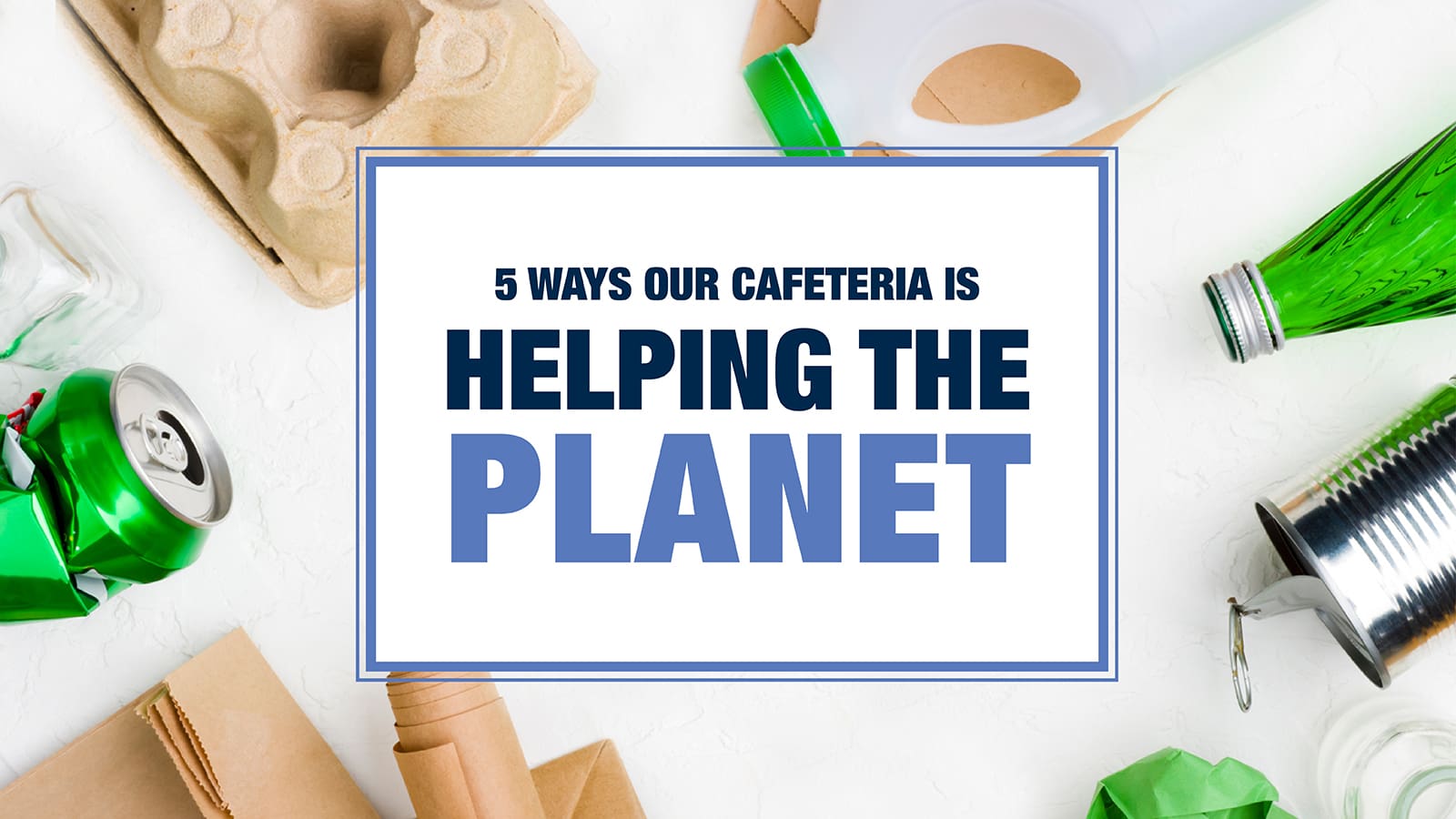 A healthy planet is good for everyone, and that's why we're doing our part to care for the planet through sustainability programs, such as the one in our cafeteria. At Metro Health, while our care teams focus on patient health, our cafeteria team continues to make protecting the environment a priority in their daily operations. As a testament to that focus, our cafeteria strives to be one of the most eco-friendly in West Michigan.
Below are five ways we make that happen.
Encourage Composting
Our cafeteria is equipped with waste bins that offer patrons the opportunity to compost portions of their unfinished meals and even the containers the meals come in. Our kitchen and prep teams also take part in composting by ensuring all food waste is properly disposed of. This composting allows us to produce less waste than your typical cafeteria.
Use Compostable Plates and Containers
The plates, utensils and containers used in our cafeteria are made of 100% compostable materials, reducing the amount of waste that makes it to our landfills. Along with compostable containers, Metro Health also encourages all employees to use their own water bottles by providing filling stations throughout the hospital. In the cafeteria, these filling stations are infused with different fruits and flavors each day.
Source Local Foods
Partnerships with local farms such as Visser Farms allow us to receive locally sourced produce, including fruits, vegetables and herbs. Sourcing from local farms cuts back on the use of fossil fuels for delivery and lowers our carbon footprint. Along with locally sourced produce, all beef and chicken used in the kitchen is provided by local farms—hormone and antibiotic free.
Encourage Recycling
For items not able to be composted, we offer recycling bins. Not only are these bins located in the cafeteria, but they are also placed throughout the hospital, giving patrons the opportunity to recycle no matter where they are. Recycling our waste limits the amount of waste reaching our landfills and keeps our planet healthy.
Committed to Stopping Food Waste
Forty percent of food in America is wasted each year. Our cafeteria is committed to reducing food waste to 25% by the year 2020 by creating food experiences that are better for people and better for our planet.
Join us on April 24 for Stop Food Waste Day (SFWD) when we will have featured food items throughout the cafeteria that showcase SFWD with a "Zero Waste" meal, including a feature on a complete entrée of root-to-stem recipes that highlight food waste reduction methods.
We're happy to do our part in keeping our planet healthy for generations to come. Next time you visit, stop in the cafeteria and see for yourself—and be sure to enjoy one of our many healthy, low-waste meals offered daily.