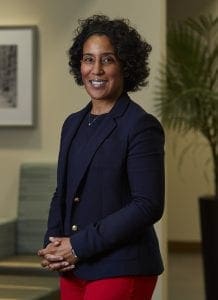 An executive experienced in providing regional access to high-quality health care is joining Metro Health – University of Michigan Health as Vice President of Primary Care.
Monica Taylor will oversee operations of all Metro Health clinics and neighborhood outpatient centers. This is an essential role in the organization's commitment to ensuring excellent primary care is accessible across West Michigan.
Taylor comes to Metro Health from Ascension Medical Group-St. Vincent in Indianapolis, where she was Director of Regional Operations. Her accomplishments included the opening and oversight of six regional care centers with multiple service lines: primary care, immediate care, physical therapy, imaging and cardiology.
"Monica has a proven ability to expand access to health care," said Dr. Rakesh Pai, President of the Metro Health Medical Group. "More than that, she understands access alone is not enough – patients deserve excellent care, wherever they receive it. This fits perfectly at Metro Health, where we believe in making leading medical expertise available to all our patients across West Michigan."
Before leading regional operations for Ascension-St. Vincent, Taylor served as Chief Operations Officer at Nevada Health Centers, Inc., in Las Vegas, where she designed and executed strategies for the largest federally qualified health center in the state. This included overseeing operations and performance improvements for 16 primary health centers, seven Women, Infant and Children sites, and two mobile units, for dental and mammography services. Taylor expanded outreach and enrollment and reduced patient wait time by more than 20 percent.
She also has served as Regional Practice Administrator for the St. Vincent Physician Network, providing administrative leadership to seven specialty locations, and as practice manager for Indiana Health Centers, Inc., overseeing daily operations of three primary care practices.
Joining the Michigan Medicine-affiliated heath system is a homecoming of sorts for Taylor: She is a graduate of the University of Michigan, where she also earned a Master of Public Health degree in health management and policy.
She continues to add to her professional development through executive education studies, including through the Healthcare Innovation Leadership Institute at Indiana University and the Association for Strategic Planning. She also is pursuing Lean Six Sigma Green Belt certification.