University of Michigan Health-West's relentless emphasis on protecting patients has once again been nationally recognized with the highest letter grade, an "A" on the Leapfrog Hospital Safety Grade for spring 2022.
UM Health-West is the only Grand Rapids-area hospital to earn the highest grade for the past four rating periods by the watchdog organization.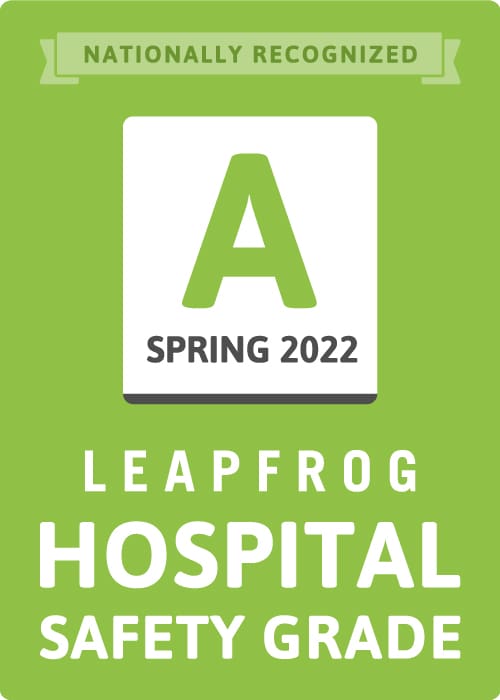 "The Leapfrog Grade 'A' is an excellent reflection of our staff and the quality of care that we provide every day for patients at UM Health-West," said Dr. Ronald Grifka, Chief Medical Officer. "Our goal isn't to get the Leapfrog 'A' grade – our goal is to provide the highest level of care. If you provide great care, you'll earn an 'A.'"
For its nationwide review of hospitals, twice a year The Leapfrog Group analyzes more than 30 performance measures for errors, accidents, injuries, infections, and prevention systems.
"An 'A' Safety Grade is an outstanding achievement, and one that is not possible without a 24/7 effort by the entire health care workforce to protect patients from harm," said Leah Binder, president and CEO of The Leapfrog Group. "This community should be proud."
Stacie Bommersbach, RN, vice president for Quality & Patient Safety at UM Health-West, said the grade reflects the "commitment and intentional focus on safety and quality" by the entire UM Health-West staff.
"The achievement recognizes the high-quality care that we deliver to our patient and their families every day. It is especially rewarding as our care teams have also worked around the clock on the frontlines to defeat COVID-19," she said.
Safety and quality are built into every aspect of the care provided at UM Health-West, from program design – such as the open-heart surgery services being launched in collaboration with the Cardiovascular Network of West Michigan – to the complex care and comprehensive services it provides around the clock, Bommersbach said.
"We have teams that work to identify and implement proven clinical practices to provide excellent care to our patients," she said. "And we will continue keeping patient quality and safety as our No. 1 priority."
Grifka said the grade is a milestone in the organization's continuous quality improvement process.
"Every day, people come to see us to get better," Grifka said. "So, we are relentless in our effort to provide better care every day, too."