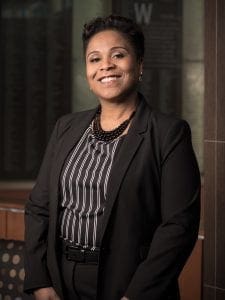 Rhae-Ann Booker, Ph.D., a lifelong Grand Rapids resident who has built a career out of dismantling barriers for marginalized populations in her hometown, is bringing her passion for that work to Metro Health – University of Michigan Health as Vice President of Diversity, Equity and Inclusion.
As an experienced advocate for comprehensive, data-driven strategies for diversity, equity and inclusion (DEI), Booker said she is energized by the opportunity of her new role. She has long recognized the important role health equity plays in the vitality of the community.
"It literally is life or death, when I think about the importance of individuals and communities trusting our organization, trusting what that doctor is saying or what that nurse is communicating," Booker said. "I am so excited by this opportunity to be addressing health equity issues. When we think about wanting any community to thrive – our health is at the core of it."
CEO Dr. Peter Hahn said Booker's skills and experience will reinforce Metro Health's progressive approach to providing access and choice in health care.
"She understands our patient-centered approach to health care," Hahn said. "She also recognizes our commitment to organizational structure that results in the best outcomes for those patients. We want to be recognized as a place that hires, supports and serves all people. That is how we fulfill our mission."
As Hahn noted, Booker's work is grounded in the understanding that effective DEI strategies must be based on an organization's infrastructure. Organizations also must consider, Booker said, whether they are motivated by mission and vision – or whether they are pursuing diversity, equity and inclusion practices for the sake of public appearance.
"I see a huge difference in those two approaches," she said. "Your motivation, in my experience, informs how you go about this work, your commitment to it, your willingness to build an infrastructure for success and not to be content with hit or miss."
Her own motivation for this work has been fueled by a desire to understand how social systems interact to advance some populations while holding others back. Another lasting influence goes back to her childhood: Early attempts at desegregation in Grand Rapids resulted in her being bused to a new elementary school.
"I was amazed, and I was unprepared, to learn that people might not like you just because of your skin color, just because you're one of those kids who got off the bus that came from the inner city of Grand Rapids," she said.
Her interest in social systems led her to earn an undergraduate degree in sociology at Calvin College. Later, she was recruited to work at her alma mater, and went on to earn a master's degree in social work at Western Michigan University. Her concentration was in policy, planning and administration. With the encouragement of an African American scholar, she went on to earn her doctorate in Evaluation, Measurement and Research Design at Western.
As she assumed progressively growing responsibilities at Calvin, she led the college's efforts to ensure the campus climate was inclusive and supportive of all students. This included developing and implementing polices and partnerships to help the college reach underrepresented student populations.
Later, as Executive Director of Diversity, Equity and Inclusion at Davenport University, she led the design and development of their first university-wide DEI Strategic Plan and framework for achieving inclusive excellence. She also initiated Davenport's participation in a health equity collaboration with the Grand Rapids African American Institute, along with other area colleges.
Her work has earned multiple national and regional recognitions, including PRISM's National ERG & Diversity Council Honors Award in 2016, 2017 and 2019, Corp! Magazine Diversity Business Leader Award in 2016, Grand Rapids Chamber of Commerce Diversity Visionary Award in 2016, and the Insight into Diversity Higher Education Excellence in Diversity Award for six consecutive years, from 2012-2017.
More important than the recognitions, Booker said, is the opportunity to be part of an organization that plays a significant role in continuing her hometown's progress toward becoming a place that embraces its diversity.
"I would say there seems to be an intentional effort in our community for inclusion and just being aware of our diversity, seeing that as a strength," she said. "We're trying to leverage that diversity as a strength to hopefully draw others who are looking for a welcoming community."