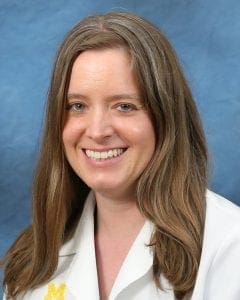 With the addition of Susan Sharpe, MD, an experienced surgical oncologist, Metro Health – University of Michigan Health is expanding its capability to treat cancer, an illness expected to be faced by nearly 40 percent of Americans in their lifetimes.
Cancer is the second cause of death in the United States, close behind heart disease, according to the Centers for Disease Control and Prevention. The National Cancer Institute estimates 38.4 percent of men and women will be diagnosed with cancer at some point in their lifetime.
Dr. Sharpe is contributing to the efforts to combat cancer by joining Metro Health's oncology team. She is board certified in complex general surgical oncology and specializes in the treatment of skin cancer and soft tissue tumors. Her surgical specialties include:
Esophageal and gastric cancer surgery
Small bowl surgery
Gallbladder cancer surgery
Liver and bile duct surgery
Pancreatic surgery
"Cancer touches so many lives, including here in West Michigan," said Raki Pai, MD, President of the Metro Health Medical Group and Chief Population Health Officer. "The addition of Dr. Sharpe helps us fulfill our commitment to stand alongside our patients, whatever they are going through, by growing capabilities and expertise where our patients need it."
Dr. Sharpe is also an integral part of the Cancer Network of West Michigan, a collaborative between Metro Health, Mercy Health and Michigan Medicine to integrate cancer care services in West Michigan. She is already working closely with Dr. Jill Onesti, a surgical oncologist employed by Mercy Health, to build collaborations and efficient models of care across both institutions.
Dr. Sharpe obtained her medical degree from George Washington University School of Medicine and Health Studies. She continued her education with a residency at Rutgers (UNDMJ) New Jersey Medical School and a fellowship at University of Chicago. She comes to Metro Health after five years at the MetroHealth Medical Center in Cleveland, Ohio.