By Dave Olejniczak, Chief Operating Officer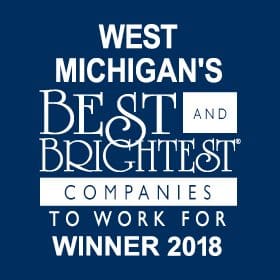 On behalf of our Leadership Team, I am proud to announce that we have been selected as being among the "101 Best and Brightest to Work for" in West Michigan. Metro Health – University of Michigan Health was among the employers recognized at a luncheon on May 3rd in Grand Rapids.
During a transformative year in which Metro Health affiliated with University of Michigan Health, our organization was the only Grand Rapids area hospital included among the "101 Best and Brightest," a real testament to the way we acknowledge and engage all of our team members.
The culture of our organization is what sustains Metro Health – University of Michigan Health and differentiates us as the ideal place for the best and brightest people to work and care for our patients.
The National Association of Business Resources, NABR, selected companies "for having the most innovative and thoughtful approach to human resources" said Jennifer Kluge, president and CEO of Best and Brightest programs, NABR. "Companies that recognize that their employees are the key to their success achieve staying power," Kluge said.
Recipients are selected by an independent review organization that measured employee survey responses regarding job satisfaction, employee achievement and recognition, communications and shared vision.
Questions also ranked the employee perception of diversity and inclusion, such as a tolerant work environment that embraces people of differing abilities, and multiculturalism.
Employee views of work-life balance, community engagement and strategic performance were measured, along with compensation and benefits, and recruitment and retention.
We appreciate the way you work with each other as a team dedicated to delivering the highest quality care and service to the people who entrust us with their lives every day.