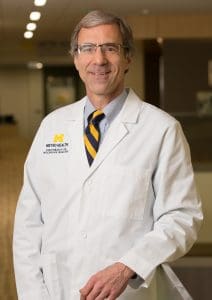 With decades of experience repairing children's hearts and leading fellow physicians, renowned pediatric cardiologist Dr. Ronald Grifka is bringing his expertise and patient-focused approach back to West Michigan.
As the new Chief Medical Officer at Metro Health – University of Michigan Health, Grifka will oversee more than 500 physicians, provide leadership to medical education and serve as the organization's Chief Clinical Quality Officer. He will continue to care for patients and, through Metro Health's affiliation with Michigan Medicine, maintain a role with C.S. Mott Children's Hospital, regularly named the top children's hospital in the state.
Grifka succeeds former Chief Medical Officer Dr. Peter Hahn, who was named Metro Health President and CEO in October.
"Dr. Grifka is an ideal addition to our leadership team," Hahn said. "He brings highly respected expertise, a passion for excellent patient care and a commitment to sharing his skills with the next generation of physicians. His leadership qualities are well-proven and a good fit in West Michigan, where he has helped establish leading pediatric cardiology services."
Although the executive role comes with significant responsibilities, including overseeing 17 departments, Grifka considers it essential to remain a practicing physician. "I really want to understand the needs of our patients and the needs of our staff providing the care," he said.
Metro Health's hallmark of patient-centered care aligns with Grifka's personal approach to medicine, evident in cards and letters he receives, some sent years after providing care – thankful notes from grandparents, email updates, graduation announcements for young adults that he treated as infants.
"I develop a bond with a lot of patients," he said. "You need to understand them and treat them as an important person, not just as another number or a procedure. These parents are trusting me with their most precious possession – their children."
Grifka spent much of his career, nearly 20 years, at Texas Children's Hospital – Baylor College of Medicine in Houston, the nation's leading center for pediatric cardiology and heart surgery. But his expertise is widely known in West Michigan.
The Michigan native has been helping young heart patients in the Grand Rapids area since 2006, when he became Chief of Cardiology at Helen DeVos Children's Hospital. He led the expansion of that program, including designing the new cardiology facilities.
In 2012, Grifka joined the University of Michigan as professor of pediatrics and an attending cardiologist at C.S. Mott Children's Hospital. According to U.S. News & World Report, Mott is the state's top-rated hospital for pediatric cardiology and heart surgery, and one of the top 4 programs in the country.
As Director of the Cardiology Outreach program at Mott, he helped establish 11 clinical sites across Michigan, including in Grand Rapids. He also served as Director of the Pulmonary Hypertension program, and Director of the Mott Partners in Pediatric Care Conferences held in several cities across Michigan.
Grifka said he was drawn to Metro Health – University of Michigan Health by the opportunity he sees to advance care and choice for patients.
"Metro has been a great community hospital. We've added a number of new programs, new physicians, and we are trying to advance the care that has been provided at Metro. We're going to bring in new people to do that, to enhance the great work that's already been done here," he said.
"As we are expanding programs at Metro, obviously there's going to be a lot of teaching and learning that's going to be involved. These are two important parts of what I have done for my whole career. I have been fortunate to have excellent teachers, and I appreciate how important that is."
For the past two years, Grifka also was Associate Medical Director for Strategic Planning and Business Development for the University of Michigan Health System. He is a member of the Michigan Department of Health and Human Services Sudden Cardiac Death Committee and Neonatal Oxygen Screening Committee.
Grifka earned a Bachelor of Arts degree in chemistry from Wayne State University, where he received the Donnelly Award as the university's outstanding graduate, then earned his doctor of medicine degree. He completed pediatric residency at Children's Hospital of Michigan in Detroit.
His training continued at Texas Children's Hospital, where he completed a pediatric cardiology fellowship, followed by a fellowship in interventional cardiac catheterization. Grifka stayed on the faculty at Texas Children's for 14 years, including serving as Director of the Cardiac Catheterization Labs and Associate Chief of Cardiology. He was awarded the Charles Mullins MD Endowed Chair in Cardiology.
He has received outstanding teaching awards at several children's hospitals, has been an invited professor at numerous hospitals around the world, and moderated many scientific sessions at national and international meetings. He has published more than 85 manuscripts, 12 chapters, and developed a device that was approved by the FDA for treating congenital heart defects. He has been named to the "Best Doctors" list for more than 20 years and serves on the editorial review board for a number of cardiology journals.
He also is an adjunct professor of cardiology at the Michigan State University College of Veterinary Medicine, where he teaches and performs catheterization procedures.
Dr. Grifka is a fellow of the American Academy of Pediatrics, American College of Cardiology and the Society of Cardiac Angiography and Intervention. He is a member of Phi Lambda Upsilon Honor Society and the Donnelly Honor Society.
###