Metro Health – University of Michigan Health is sending a clear signal of welcome, support and affirmation to the LGBTQIA+ community by raising the Pride Flag for the month of June and adding window decals with a clear message: "You belong here."
Taken together, the displays are meant to signal the health system's unwavering commitment to creating a welcoming, inclusive environment for everyone, said Dr. Rhae-Ann Booker, Vice President of Diversity, Equity and Inclusion, Metro Health – University of Michigan Health.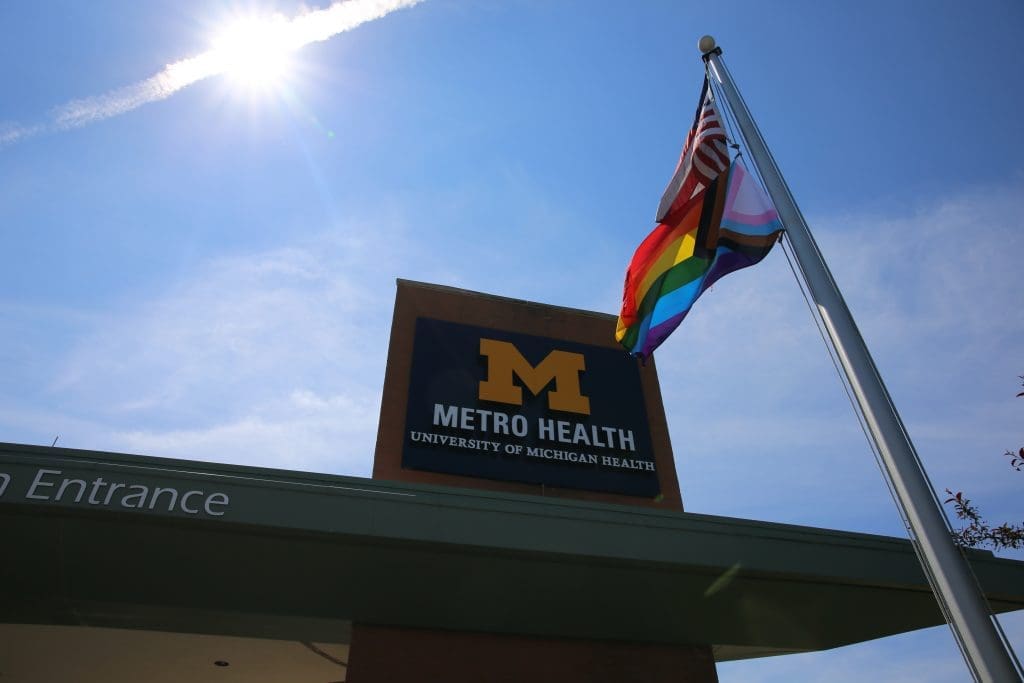 "Pride Month is an ideal time to reaffirm this commitment to employees, patients, visitors and the community," Dr. Booker said. "LGBTQIA+ individuals often have endured a lifetime of exclusion, judgment and intimidation – even by health care providers. This jeopardizes wellbeing and can even be a matter of life and death. And we won't tolerate that here."
Research shows that LGBTQIA+ individuals face multiple health disparities linked to discrimination and ostracism, including access to quality healthcare and culturally competent providers, which can lead to chronic illness, psychiatric disorders, substance abuse and suicide.
"By ignoring person-centric treatment, an organization impedes the healing process and the opportunities to improve health outcomes," said Dr. Booker.
The health system's efforts go beyond providing visual assurances, said Steve Polega, Chief Nursing Officer, Metro Health – University of Michigan Health. Initiatives include education, training and opportunities to make commitments to inclusion.
"As an organization, we continue to take intentional steps toward respecting all identities, being allies, and increasing our own understanding," Polega said.
The flag that will fly outside Metro Health Hospital in Wyoming will be the Progress Pride Flag. This newer version of the familiar rainbow flag adds black and brown stripes to represent communities of color, along with pink, light blue and white – colors used on the Transgender Pride Flag.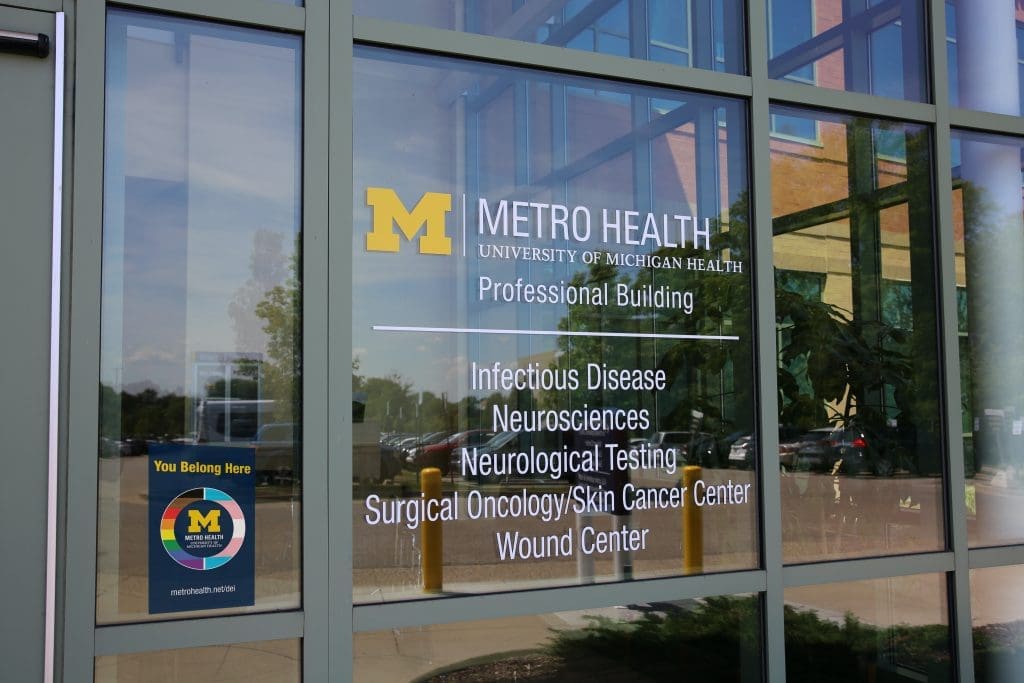 Similarly, the "You belong here" window decals, which will remain posted year-round, include an updated design based on a new logo adopted for the health system's internal training initiative on sexual orientation and gender identity (SOGI).  This design is modeled after the Progress Pride Flag, which adds black and brown stripes representing marginalized LGBTQ+ communities of color.
Learn more about Metro Health – University of Michigan Health's commitment to Diversity, Equity & Inclusion here.