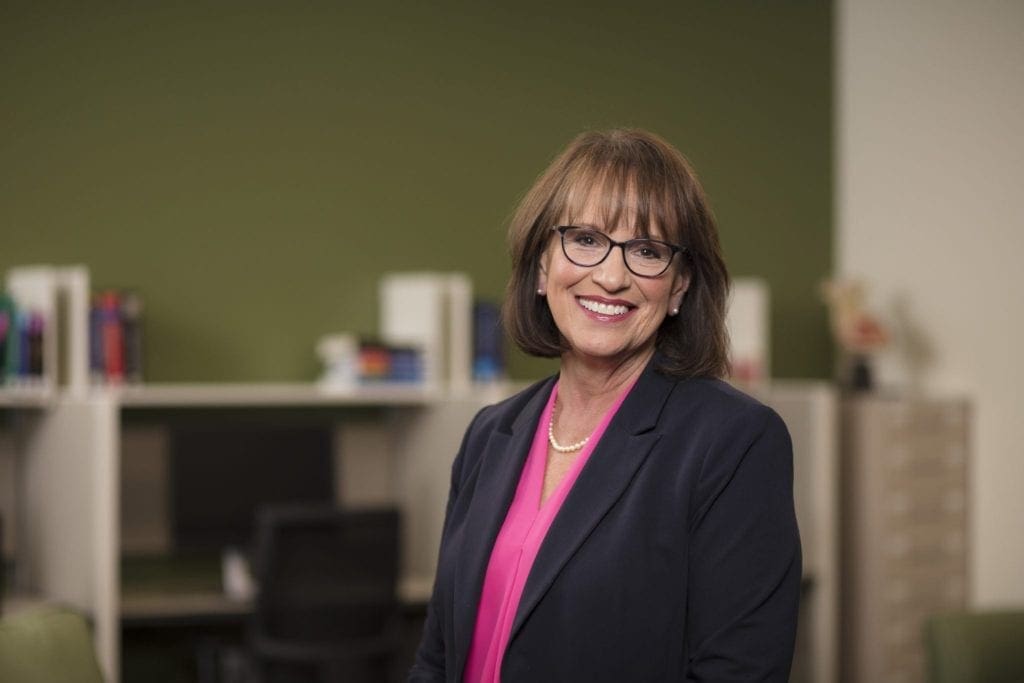 Gerri Navarre is being honored for a career that has nurtured the education of more than a thousand aspiring physicians at Metro Health – University of Michigan Health, turning the students of today into the medical leaders of tomorrow.
Navarre, Metro's Administrative Director of Medical Education and Associate Designated Institutional Official, has been selected as the 2018 recipient of the Michael Opipari, DO Distinguished Service Award. The award was presented May 30.
In recognition of service to Michigan State University College of Osteopathic Medicine's 37-hospital Statewide Campus System, the award is given to a leader who has made outstanding contributions in volunteer service, administration, research, teaching, scholarship and mentorship on the local, state and national levels.
"Gerri is eminently qualified on all of these stages," said Dr. Jeff Postlewaite, Metro Health Vice President of Medical Administration and Medical Education/Designated Institutional Official. "She has had a very direct and positive influence on more than 400 graduate residents who have completed their training at Metro. She has also had an influence on hundreds more medical students who have not yet graduated but have chosen to take a rotation at Metro. Just think of the number of patients she has indirectly influenced!"
"There are 37 teaching hospitals in the Statewide Campus System, and to be chosen from such an esteemed group is humbling," said Navarre, who added that working with medical students is its own reward.
"Watching the growth and professional development of these physicians as they go through training is amazing," Navarre said. "I've been able to watch the progress of individuals who start with us as third-year medical students, then stay on as residents. After they graduate from residency, some stay on at Metro and oftentimes become leaders in our organization."
Navarre also takes pride in Metro's role as a premier destination for osteopathic students, who go on to provide care across the state and nation, as well as right here in West Michigan.
"Our organization has made a huge contribution to society and our community, and I am proud to be part of it," she said.
Navarre has master's degrees in Health Professions Education and Social Work. She has held leadership roles in osteopathic training on the state and national level and is an adjunct assistant professor at MSU's College of Osteopathic Medicine; a Fellow in the Association of Osteopathic Directors and Medical Educators; and a Certified Training Administrator of Graduate Medical Education.
Metro Health – University of Michigan Health has a long tradition of being committed to the education and training of the next generations of physicians. Just as it promises the best patient experience, best employee experience and best community experience, Metro also promises the best physician experience – a philosophy that extends to those in training.
"If there is anything that our team can do to make resident training the highest quality, that is our goal," Navarre said. "I love working in medical education because it is always changing and challenging. There have been many changes in medical education over the past several years that provide so many opportunities to learn and grow."
Metro is committed to education and to helping students receive hands-on learning experiences in a wide array of medical disciplines. All of Metro Health's residency programs are accredited by the American Osteopathic Association and are in the process of transitioning over to the Single Accreditation System.
Metro has initial accreditation by the Accreditation Council for Graduate Medical Education (ACGME) for seven residency programs: Emergency medicine, Family medicine, Internal medicine, Obstetrics and gynecology, Orthopaedic surgery, Osteopathic neuromusculoskeletal medicine and Surgery. While Metro historically accepted only doctors of osteopathic medicine (DOs) as residents, the accreditation means it can accept doctors of allopathic medicine (MDs) as well. In addition, applications are in process for Urologic Surgery and for fellowship accreditation in the increasingly important field of Sports Medicine.