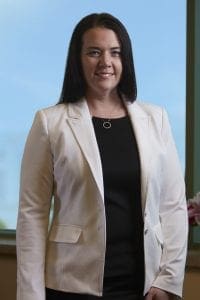 Accomplished philanthropy professional Jaime Counterman has been named director of the Metro Health Hospital Foundation, where she will lead initiatives that help keep Metro Health – University of Michigan Health at the leading edge of medicine.
A lifelong resident of West Michigan, Counterman brings extensive nonprofit, fundraising and leadership experience to the role. She has a track record of success with organizations across the region, most recently as director of Ele's Place West Michigan.
Metro Health Chief Community Officer Greg Meyer said Counterman has demonstrated an ability to exceed expectations.
"That's extremely important at Metro Health, where it's built into our culture to constantly set new standards of excellence," Meyer said. "The Metro Health Hospital Foundation plays an integral role in this, by funding our nonprofit health organization's investment in staff development, advanced equipment, and free and low-cost community health initiatives."
Counterman said she was drawn to Metro Health by its physician-led, patient-centered focus on providing health care excellence to West Michigan.
"I try to live by the motto, 'we rise by lifting others,' and have been fortunate in my career to find causes that align with my priorities," Counterman said. "Metro Health is a perfect example. I am passionate about ensuring my community has access to the best health care available. This is my home, and I'm grateful to have an opportunity to contribute to that cause."