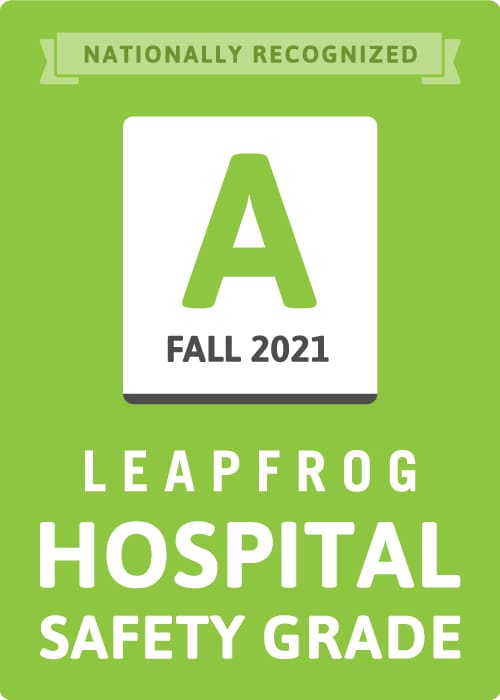 University of Michigan Health-West's laser focus on quality and safety has once again been nationally recognized, with an "A" Leapfrog Hospital Safety Grade for fall 2021. This is the third consecutive time, University of Michigan Health-West has achieved the highest grade given by the Leapfrog Group.
The recognition is especially gratifying, hospital officials said, because it shows a relentless emphasis on patient safety amid the historic challenges of the pandemic. The news also comes as the organization is adding advanced clinical services, including open-heart surgery, and as it gains additional recognition as a statewide leader in areas such as surgical quality.
"We are very proud of all of our staff for their consistently excellent care for patients in West Michigan," said Chief Medical Officer Ronald Grifka, MD. "It is encouraging to see this superb care recognized by the nationwide Leapfrog organization, as every employee contributes to our mission of relentlessly advancing health to serve West Michigan."
The Leapfrog Group, an independent watchdog organization, assigns grades, A to F, to general hospitals based on over 30 measures of errors, injuries, accidents and infections, as well as systems to prevent harm. Grades are updated twice annually. University of Michigan Health-West is the only Grand Rapids hospital to earn consecutive "A's" in the past three reports.
Stacie Bommersbach, Vice President of Quality & Patient Safety, said the grade is not an endpoint but a milestone in the organization's continuous quality improvement process, adding, "We are always striving to be better and to provide the absolute highest quality patient care to every patient we serve."
The grade reflects University of Michigan Health-West's capabilities to treat increasingly complex cases, she said. The organization recently was recognized by the Michigan Surgical Quality Collaborative as a statewide leader in results following surgery.
Noting the powerful resources that are available as part of the world-renowned University of Michigan Health system, Bommersbach said safety and quality are built into the design of new services. One example is the open-heart surgery program approved earlier this year in partnership with the Cardiovascular Network of West Michigan.