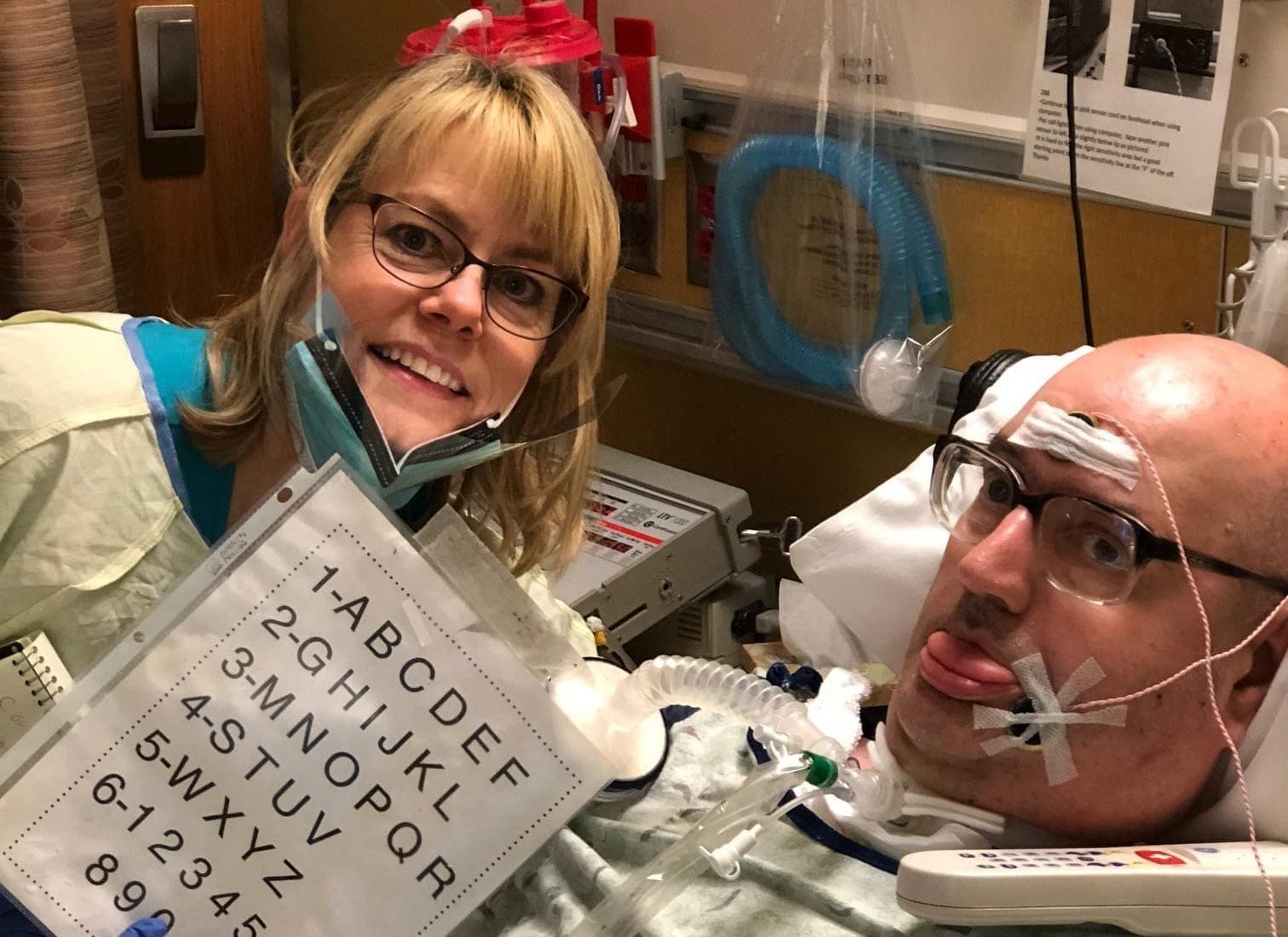 A relentless will to participate in life
It is a few days before Jon will celebrate his 54th birthday, much as he has marked other milestones and holidays for the past 20 years: in his room in the Assisted Breathing Center at Metro Health – University of Michigan Health.
Jon is unable to move or speak due to the progression of ALS, Amyotrophic Lateral Sclerosis. But while his body is stilled, his mind is not.
The Assisted Breathing Center does more than keep him alive. It keeps him engaged with the world, able to display the "sharp intelligence and wit" family and staff always recognize in him, despite his inability to speak.
With room for 22 beds, the Assisted Breathing Center is one of the leading vent units in Michigan, caring for people who are ventilator-dependent due to disease, injury or other conditions. It is the state's only dedicated vent unit within a general acute care hospital, and one of the few in West Michigan that features in-room ventilator dialysis support.
The most effective attribute of the Assisted Breathing Center is a staff dedicated to providing the best patient experience, 24/7. This is important; even those patients with much shorter stays than Jon's can require months of therapy before being ready for discharge.
"Long-term care of a critically ill person is a specialty," said Susan, intake specialist for the ABC. "It takes a special type of caregiver. More than a few of these staff describe their patients as family."
One of those staff is Shelley, Jon's recreational therapist, who helps him communicate through use of his computer, specialized software and adapted devices. This allows Jon to be connected to the outside world.
ALS, also known as Lou Gehrig's Disease, is the same illness that afflicted the late physicist Stephen Hawking. And just as Hawking depended on technology to express his thoughts, Jon relies on ABC staff and his computer to help him communicate.
The ABC staff and Jon's family use a "spell board," going row by row on an alphabet chart, calling out the numbered rows and letters until he raises an eyebrow to identify a letter, or moves his jaw back and forth to communicate the word 'no'. Staff then write down his responses as they form words.
"During the 1992 Barcelona Olympics with the original 'Dream Team' of Michael Jordan and Magic Johnson is when I found out my diagnosis of ALS, Amyotrophic Lateral Sclerosis," Jon spelled, speaking through staff. He was 28 at the time.
The time reference puts his stay into perspective. Many of his caregivers have been with him from the beginning, in 1997, when Jon entered what was called "The Vent Unit" at the former Metropolitan Hospital on Boston Street. They naturally have developed a bond with him.
Deb, Jon's nurse/vent tech for 20 years, says "Jon has had a good routine of getting up in his wheelchair and turning every two hours while in bed, which has maintained good skin integrity. Jon is also a very fun patient to go on an outing with. Respiratory Therapy performs pulmonary hygiene using cough assist and suctioning, which keeps his lungs clear."
These meticulous nursing care and infection prevention protocols keep Jon and the other patients of the ABC safe.
"Staff also take pride in making sure patients can communicate and not become isolated from others" said Shawn, BSN, RN, nurse manager of the Assisted Breathing Center.
Every patient has different needs, so the ABC staff takes a resourceful, do-it-yourself approach to helping each one communicate. At one point, a Metro IT staffer cobbled together some electronics from Radio Shack to design a TV control that patients could operate with their mouths, Shawn said.
"We recently got these media players that also double as WiFi adapters, so patients can access streaming services like Netflix," Shawn said. "Being one of the most wired hospitals in the country, that was one of the things we took advantage of."
The ABC unit can also offer patients with limited or no use of their upper extremities, a device which can control their TV with the use a specialized switch or a sip-n-puff control system.
Support from the Metro Health Hospital Foundation enables the Assisted Breathing Center to keep up with technology and equipment to improve the quality of life for patients, Shawn said.
"Support from the foundation is invaluable," he said.
Patients socialize through weekly activities – exercise group, art class, games and church services. Patients and families also participate in activities together such as the Annual Art Show, Holiday party, and recently a movie day. Rehabilitation specialists take patients through progressive steps to wean from the ventilator, and staff provides care instruction for family, setting goals in preparation for leaving the unit. Patients have also participated in community outings.
Amid technological advances, the simple spell board remains a lifeline – albeit a time-consuming one – for patients to communicate. Many patients have learned to use abbreviations, like teens texting on phones, to speed the process. But staff note that Jon will always take the time at the end of an exchange to completely spell out the words, "thank you."
Back in Jon's room, his sister Joanne is on speaker phone, calling to tell him that she, four of their nine siblings and two brothers-in-laws will be visiting for his birthday. "Are you looking forward to us being there for the weekend Jon?" Joanne asks.
The only sound in the room is the rhythmic hissing of a breathing machine, but Jon raises his eyebrows and answers, "yes," and Shelley relays the message.
Jon enjoys visitors, especially the volunteers who read books to him, and the games and social activities Shelley arranges. He has a sense of humor and loves to play practical jokes. Family visits are marked by lively conversation and laughter.
A visitor asks Jon about a family Christmas photo in which he is wearing a Central Michigan University "Fire Up Chips" T-shirt. Joanne remarks that Jon played the trombone in the marching band for four years. Jon communicated that he earned a degree in computer science.
Joanne calls Jon her biggest cheerleader. He was the first person she told when she successfully defended her doctoral dissertation. "I was humbled by his support of me," she said, "what he is doing every day pales in comparison to what I did."
She admires her brother's "sharp intelligence and wit that comes through when we see him," adding: "It is cruel that there is so much about Jon that people can't see. He is a remarkable person."
Jon raises an eyebrow. He has something to say. With Shelley writing down the letters, John says, "I am just living with a terrible illness and of us 11 in our family, I am glad it happened to me so no one else would have to do this."
Joanne says the care her brother receives has been outstanding.
"He is at high risk of infection, yet he has had surprisingly minimal health issues over 20 years. That is really unheard of, and it is because of the care he has received," she said.
"Jon's 20-year journey has the admiration of all his siblings for all he has endured," Joanne said. "He is just phenomenal. We are all in awe of Jon's strength and courage."