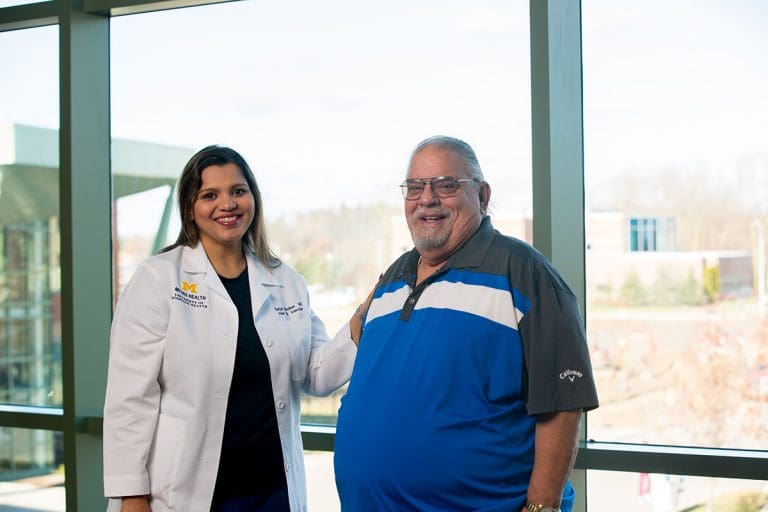 With the additional burden of diabetes, his legs have experienced their fair share of issues. So, when the swelling and pain in his legs continued to worsen, Eugene thought his on-going struggles with knee issues and diabetes were to blame.
When the pain got so bad that standing for more than five minutes was no longer possible, Eugene decided to consult a doctor. After an ultrasound of his legs was performed at Metro Health, Dr. Gholkar gave him unexpected news: diabetes wasn't to blame, his veins were.
Eugene was told he had what he describes as "bad veins." He learned the veins in his legs were no longer strong enough to circulate blood back to his heart from his legs. This led to the swelling and pain he was experiencing.
After explaining this, Dr. Gholkar came back to Eugene with a solution. On September 4, Eugene underwent a procedure to seal off the non-functioning veins, which would then, in turn, re-direct blood to other, functioning veins. The procedure was relatively non-invasive. A tube was inserted in a vein through his calf, which was then directed to the affected area, sealing it off with a sort of glue. The procedure took less than 1.5 hours, and Eugene was home that afternoon.
Not long after his initial procedure, Eugene went to watch his grandson play football. With limited seating, he had to stand to watch the game. He was amazed when he checked his watch and a half hour had passed with no pain in his legs.
With a few more procedures scheduled, Eugene's vein issues will be cleared up by Christmas, which couldn't be better timing with 15 grandchildren, 3 great-grandchildren and two more on the way. Eugene is sure to be one busy, active grandpa come this holiday season.