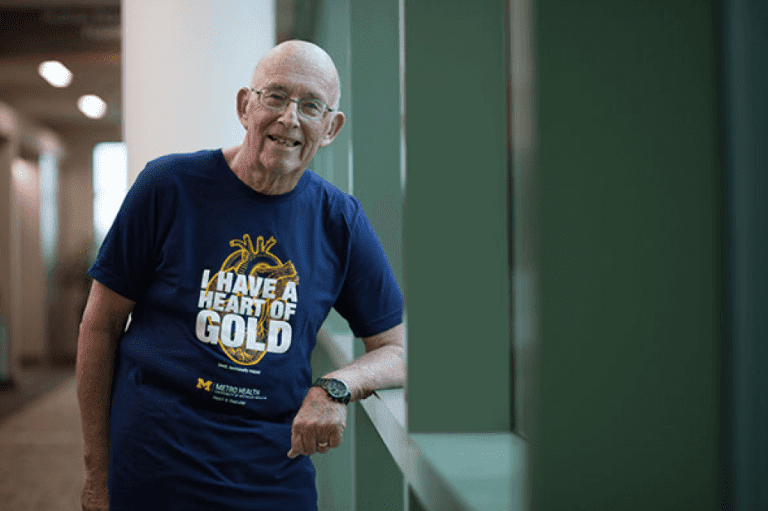 "I was discharged Friday. The following Wednesday at home, I had another heart attack," Phil stated.
Phil's heart attacks brought him to the state of the art cardiac rehabilitation facility on Metro Health's main campus in Wyoming, MI. He's midway through a rehab program that will have him here three days a week for twelve weeks. Each class consists of one hour of exercise followed by a half hour of an instructional class.
"It's (the class) given me a lot of information aimed at people like me who are rehabbing from cardiac arrest. It has helped me build a structure to getting better that I now have to maintain for the rest of my life, and it's taught me how to do that. It's covered pretty much everything I need to know to be a recovering heart attack patient," says Phil.
Phil's honest about how he got to the rehab facility, "I had heart attacks because I made bad choices, they helped me figure out how not to make those choices, how to get my life turned around, they've helped me turn it around. Without cardiac rehab, yeah I might not have another heart attack right now, but I'm not going to be in the shape and the lifestyle that I am now able to be in because I went through cardiac rehab."
As for his time at the cardiac rehab facility and his interactions with the staff, Phil has nothing but good to say.
Part of the final class is dedicated to a graduation ceremony. Each patient writes their name on a gong and gets treated to a special red carpet walk, where they hit the gong to signal the end of their sessions.
Phil jokes about his upcoming last day at rehab, "I've told them that there is a dent in the gong, waiting for me to put it in there because I'm going to put the gong through the wall after I write my name on it."
Phil is quick to remind anyone, "I just think the world of Metro. They have saved my life and helped me put it back in order. I have told a lot of people, if you've got to do something, this is the place to do it."