After growing up in a West Michigan medical family and training at two of the nation's top medical institutions, Lindsay Robell, MD, has come full circle, joining University of Michigan Health-West as a neuro-oncologist for the Cancer Network of West Michigan.
The network is a collaboration between University of Michigan Health-West, Mercy Health St. Mary's, and Mercy Health Muskegon, drawing on the expertise of University of Michigan Health. This innovative approach allows Robell to serve patients across systems and across the region.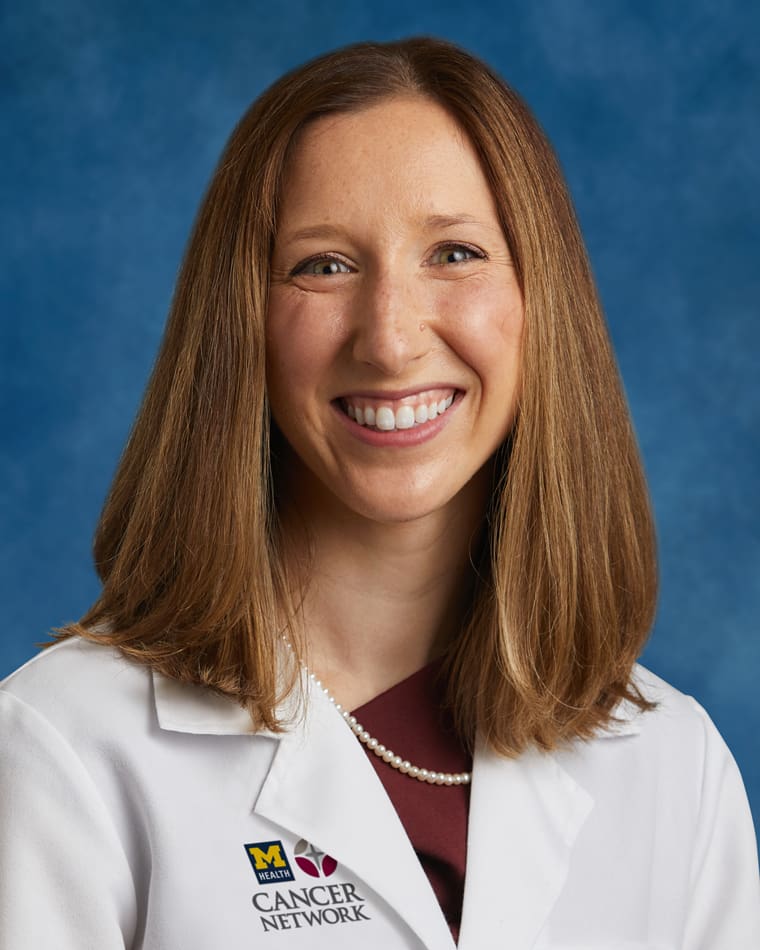 "Dr. Robell specializes in the treatment of patients with primary brain tumors, metastatic disease to the brain and spine, as well as the neurologic complications of cancer – services that are much-needed in West Michigan," said Dr. Rakesh Pai, President of the Medical Group and Chief Population Health Officer, University of Michigan Health-West.
"Patients have been facing the prospect of traveling to Southeast Michigan or Chicago to receive treatment," Pai said. "We're thrilled that Dr. Robell is bringing her expertise home to offer hope and treatment to patients in the region she knows so well."
Robell is equally energized by the potential of the Cancer Network of West Michigan.
"This is such a unique opportunity to have sub-subspecialty cancer care available to people in West Michigan," Robell said. "I'm excited to see where this will be in five years."
"Dr. Robell's arrival expands our specialty expertise and adds to the already comprehensive list of oncology services provided within the Cancer Network of West Michigan," said Dr. Matt Biersack, President and Chief Medical Officer for Mercy Health Saint Mary's. "We are proud to be able to offer this community a dedicated local resource for these types of cancers."
Robell grew up in North Muskegon, the daughter of a doctor and a nurse. After earning an undergraduate degree at Drake University in Des Moines, Iowa, she returned to Michigan to earn her medical degree at Wayne State University. She completed a residency in neurology at the University of Michigan Medical Center, followed by a neuro-oncology fellowship at MD Anderson Cancer Center in Houston, the nation's top-rated cancer center.
Dr. Robell said she is drawn to neuro-oncology because of the opportunity for meaningful engagement with patients at what could be the most difficult times of their lives.
"Part of our job is treating the cancer, the other part is treating the person," she said. "That means understanding what's important to them, what their goals are, what sacrifices they are willing to make and what they are not willing to sacrifice. Until you are treating those things, you are only treating half of the person."
Through the Cancer Network of West Michigan, Dr. Robell will split her time between the University of Michigan Health-West Cancer Center and the Mercy programs in both Muskegon and Grand Rapids.