Dear Residency Candidate,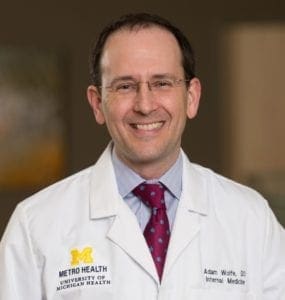 Welcome to the University of Michigan Health-West Internal Medicine Training Program. On behalf of the Department of Medicine, I am excited to introduce you to our outstanding program. It is truly an exciting time to be in medicine, and we welcome your interest and enthusiasm for our program when you consider the next important step in your career in medicine. Clearly, your decision on a residency program is critical to your overall career goals, and finding the right fit for your training is critical for your future success.
Our University of Michigan Health-West Internal Medicine Training Program is designed to provide a rigorous broad-based general medicine experience with an emphasis on superior clinical medicine. Our curriculum will provide you with balanced exposure to both ambulatory and inpatient medicine. Our graduates have continued practice in a variety of clinical environments after graduation – whether primary care internal medicine, hospital medicine, or subspecialty fellowship, our graduates have developed a rich network of clinical experiences for our current residents, as well as relationships for post-graduate opportunities. Our varied sites for resident clinical experiences, including our dedicated continuity clinic (UM Health-West Community Clinic), allow our residents a personal approach to a culturally diverse, complex, and rewarding patient population during their training program. Elective experiences are tailored for your unique interests and goals as a resident and future practicing physician.
The mission of our program is to improve the health and quality of life for the people of West Michigan through the education of well-rounded internal medicine physicians. Competency, compassion, and empathy to our patients and their families are core principles to our mission. Using these principles we strive to raise, discuss, and elucidate the important ethical, scientific, and economic issues involved in medical practice and patient care. Our graduates complete our program with the tools to effectively communicate with patients, diagnose and treat diseases rare and commonplace, and navigate complex health systems. I am proud of both the community we cultivate and the wonderful physicians who have matriculated through our program.
Finally, we love the heritage of our hospital as well as the excitement of Grand Rapids. Our growth continues to be exciting – housestaff absolutely benefit professionally and personally from the diversity of experiences in West Michigan. Outdoor or indoor activities are plentiful and encouraged during your down time throughout your training program.
I personally thank you for your interest in our Internal Medicine program at University of Michigan Health-West, and look forward to meeting you in the future!
Adam Wolfe, DO
Program Director, IM Residency
University of Michigan Health-West